Return to Headlines
Board of Education Approves Implementation of Full-Day Kindergarten Program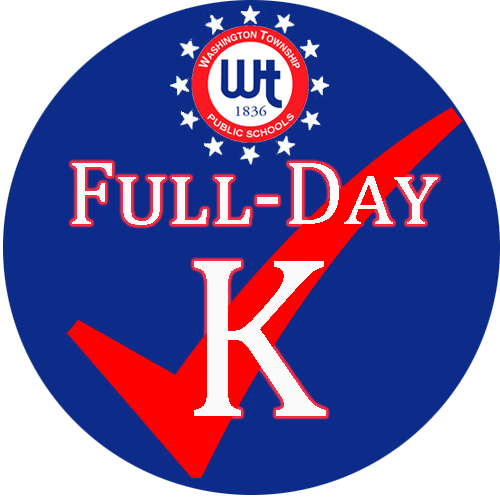 In conjunction with its newly unveiled redistricting plan that will be implemented in 2016-17, the Washington Township Board of Education also has voted to introduce a full-day kindergarten program beginning in 2016-17. Because of its anticipated enrollment size, the program will be housed in the Grenloch Terrace Early Childhood Center and also will be duplicated at Thomas Jefferson Elementary School and Whitman Elementary School.
The District's pre-school disabled program will continue to be housed at the Grenloch Terrace Early Childhood Center.
The kindergarten curricula and all program offerings will be consistent between the three locations. School hours will be from 8:50 a.m. to 3:10 p.m. A comprehensive question-and-answer sheet relating to full-day kindergarten is available on the District website.
"It is gratifying to see the initiative of full-day kindergarten finally come to pass," Superintendent of Schools Joseph Bollendorf said. "Extending the kindergarten day has been a goal of this Board of Education and many in this community for many years. Without question, providing a quality full-day kindergarten can produce long-term educational gains, including improving reading and math achievement. It offers social, emotional and intellectual benefits to all kindergarteners, giving them more time to focus and reflect on activities and transition between them."
"Personally, I am thrilled that Washington Township now will be counted among the majority of New Jersey school districts that offer a full-day kindergarten program to their families," Board of Education President Ginny Murphy said. "Research shows that investments in early childhood programs mean lower grade retention and dropout rates for students later in life. Full-day kindergarten provides a bridge between prekindergarten programs and more structured learning in first grade. It gives our teachers more time to identify and address learning challenges. It is a benefit that will be embraced by parents, and one that will strengthen an already thriving school district. The Board of Education's primary focus is student achievement in our District. Increasing instructional time for our youngest learners through the reallocation of existing financial resources is remarkable."
Pre-registration for the Washington Township's first full-day kindergarten class at the Grenloch Terrace Early Childhood Center, Thomas Jefferson Elementary or Whitman Elementary has begun and runs through Friday, April 29, 2016. If you are a parent of a child who will be five years old on or before October 15, 2016, the District invites you to call the Washington Township Public Schools' registration office (589-6644, x6698) to obtain a kindergarten registration packet.
The packet will be mailed directly to the home and will contain an appointment time for the registration process. Please note that registration in the District requires a copy of your child's immunization record (including proof of the Hepatitis B series and the Varicella vaccines that are now required for admission to kindergarten), an original birth certificate and proof of residency. Class and transportation assignments will not be made until all required paperwork is completed.
An interested parent/guardian will have an opportunity at registration to sign up for a bus trip with their child from Washington Township Lake Park to the Grenloch Terrace Early Childhood Center, Thomas Jefferson Elementary or Whitman Elementary for a first-hand look at the facility. Kindergarten sessions will be posted for the 2016-17 school year in July.