Return to Headlines
Board President Ginny Murphy to be Among 37th Annual Gloucester County Sports Hall of Fame Induction Class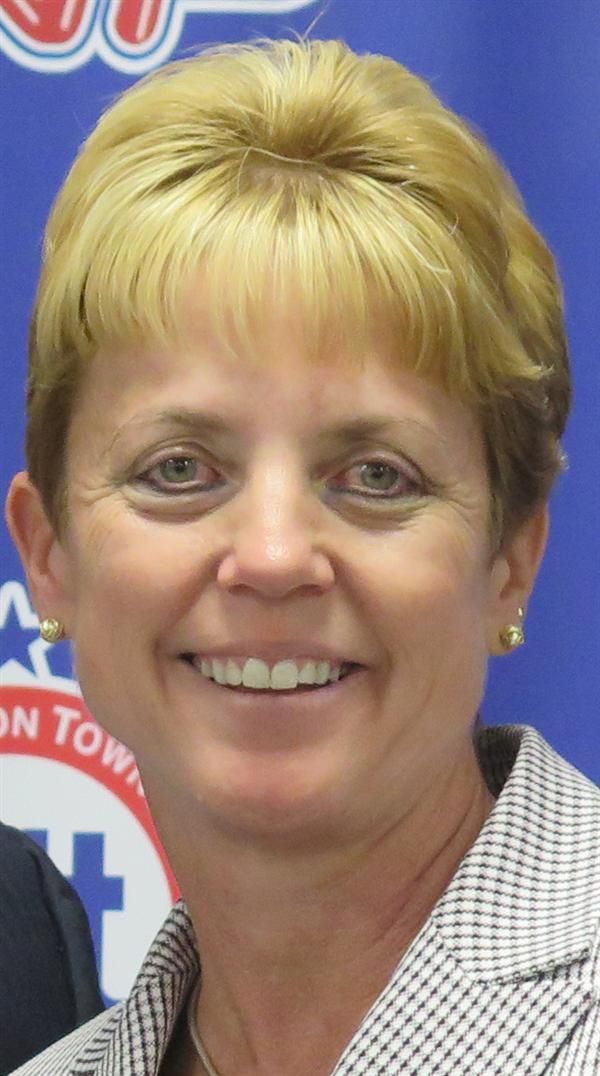 Current Washington Township Board of Education president and former Washington Township High School student-athlete Ginny Migliore Murphy will be among 14 new inductees to the Gloucester County Sports Hall of Fame during the 37th Annual Induction Banquet on March 28, 2017, at Auletto's Caterers in Almonesson. Murphy previously was elected to the WTHS Sports Hall of Fame in 2002.

Other inductees to the Gloucester County Sports Hall of Fame include: Dan Antonelli (Clayton), Typhanie Bates (Williamstown), Joe Cassidy (Rowan University), Joe Cipriano (Delsea), Linda Decker (West Deptford), Robert Eck (Pitman), Bill Henry (Gateway), Terry Jefferys Jacobs (Woodbury), Mike Lamb (Rowan College at GC), Christian Lynch (Kingsway), Karl Neiswender (Clearview), Elmer Roane (Paulsboro) and John Yowler (Gloucester Catholic).

"We are excited and proud to hear of Mrs. Murphy's induction into the Gloucester County Sports Hall of Fame," Superintendent of Schools Joe Bollendorf said. "Her induction is another example of the exceptional sports programming and athletes that have graced the hallways and playing fields of Washington Township High School. Mrs. Murphy continues to do remarkable things as the current President of the Washington Township Board of Education and as a leader with the Gloucester County School Boards Association. Her recognition through her induction is another testament to her lifelong commitment to excellence."

"It is always exciting to hear that one of our alumni is being recognized for her many athletic accomplishments," WTHS Principal Ann Moore said. "It is also notable that Mrs. Murphy has continued to positively contribute to our school community as a member of our Board of Education. On behalf of Washington Township High School, we congratulate her on this well-deserved recognition."

"Our school community is grateful to the Gloucester County Sports Hall of Fame selection committee for recognizing another Minutemaid student-athlete alum," WTHS director of athletics Kevin Murphy said of his wife's honor. "The tradition of recognizing WTHS athletic alumni continues with the selection of Ginny Migliore-Murphy by the Gloucester County Sports Hall of Fame. While I am always proud of our Township Hall of Fame members, this is personally special for my family, and the larger Washington Township family, to see Ginny recognized for her athletic achievements at WTHS and Ursinus College. She is a committed volunteer to this community through her service on the Board of Education and as the coordinator of the InterFaith Hospitality Homeless Network that serves Gloucester County families."

Murphy graduated seventh in the Washington Township High School Class of 1983 when she was honored as the school's scholar-athlete after maintaining a 95.5 grade point average throughout her high school career and earning selection to the National Honor Society. A three-sport athlete (field hockey, basketball and softball), she was a member of the Minutemaid field hockey squads that won three straight championships and amassed a 47-3 record. As the team scoring leader, she was selected to the All-Olympic Conference Team and named team MVP as a junior. The 1982 team won the Olympic Conference championship with an impressive 11-0-1 record. As a senior captain and scoring leader, Murphy earned All-Olympic Conference, All-Gloucester County and All-Group IV honors. She was selected to play in the South Jersey Senior All-Star game and earned Second Team All-South Jersey recognition.

Murphy was also a member of the 1982 and 1983 WTHS basketball teams that combined for a 44-4 record, winning two consecutive Olympic Conference championships and advancing to the Group IV state semifinals in 1982 and the finals in 1983. Murphy also led her softball team in steals and won the coaches' award for "Most Improved Player" after earning all-conference and all-county recognition.

Murphy went on to compete at the NCAA Division I level in field hockey at Ursinus, where her squads finished in the top 20 among Division 1 teams in three of her four seasons. As a sophomore, Murphy started at forward on an Ursinus squad that ranked as high as sixth in the nation and advanced to the ECAC Championship game. She was the recipient of the McIntyre Award (outstanding female athlete) as a junior and earned an Academic All-America nomination as a senior. Murphy was selected to the 1984 Touring Team to England and Holland and to the 1986 Touring Team that competed in England and Wales.

Murphy also starred in basketball at Ursinus as a four-year starter and three-year team captain. She led her squad in steals and assists in her last two seasons, earning recognition on the PIAW All-Star Team and the MAC All-Academic Team. She graduated from Ursinus in 1987 with degrees in business, psychology and sociology.

Murphy is currently in her second-term on the Washington Township Board of Education and has served as Board president since April of 2014. She is also the president of the Gloucester County School Board Association and elected member of the New Jersey School Board Association's Board of Directors. She has spent the past 30 years in the insurance and risk management business and holds insurance licenses in 11 different states. She currently works as the Liability Risk Manager for the third largest energy company in North America. She and her husband, Kevin, who is also a graduate of Ursinus College, are the proud parents of Ryan, who currently attends Rutgers School of Law, and Matthew, a junior at Fordham University.