Return to Headlines
Washington Township High School's School Store Again Receives Gold Level Certification from DECA International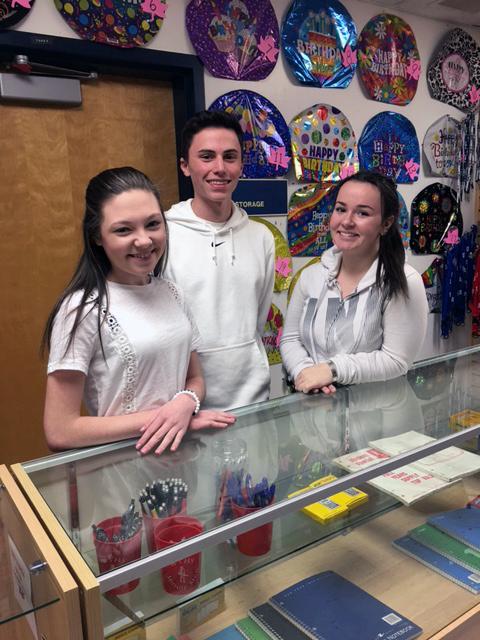 WASHINGTON TOWNSHIP – The School Store at Washington Township High School was among 360 school-based enterprises in the United States achieving Gold Level Certification (or Gold Level Re-certification) this year and will be recognized at DECA's International Career Development Conference in Anaheim, Calif. This is the second year in a row that the School Store has received such honors.
"I am very proud of our DECA students and teachers for the Gold Certification for a second year," Business Education supervisor Steve Whelan said. "While I'm honored as the Supervisor of career and technical Education, I'm not shocked. When you have hard-working students and awesome teachers, who are all surrounded by tremendous support from our entire administrative team and Board of Education, our business education students can reach the moon!"
The students who worked on the certification were seniors Darren Capano and McKenzie Clifford, and junior Christina Franks. Representing the store and competing at the International Career and Development Conference will be Franks and senior Bridget Heist, with the assistance of the school store advisor Shannon Molloy.
DECA's School-Based Enterprise Certification Program was developed to provide recognition for outstanding achievement by school-based enterprises (SBEs) and to motivate SBEs to strive for excellence and growth. SBEs can be certified at three levels: Bronze, Silver or Gold. In order to apply for the certification, SBEs must submit extensive documentation that demonstrates their adherence to various marketing and retail standards. After the documentation is submitted, a review committee evaluates the documentation to determine which level of certification has been achieved.
Complete information about DECA's School-based Enterprise Certification Program can be found at www.deca.org/high-school-programs/school-based-enterprises.
In the above photo, WTHS School Store workers (left to right) McKenzie Clifford, Darren Capano, Christina Franks pose at the store counter. The three students combined to write the certification papers filed to DECA International.
-WTPS -