Return to Headlines
Nationally Recognized Writing Consultant Works with District Social Studies Department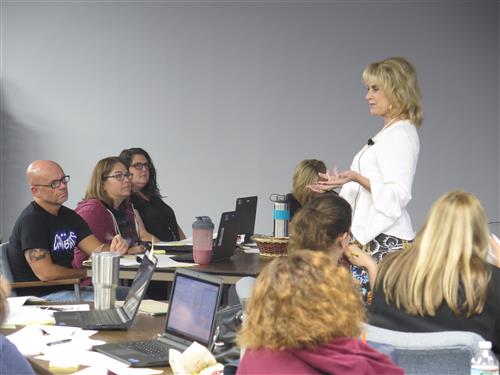 National presenter, speaker, author and educator for writing instruction Mary Ellen Ledbetter spent October 5, 2017, leading a workshop with the Washington Township social studies teachers in grade 6-12. The Houston native worked with the teachers on strategies and methods that will help them to infuse and increase writing in their content area.
"Infusing writing across subjects, outside of the language arts curriculum, has been a point of emphasis from our Board of Education," Secondary English Language Arts supervisor Melissa Barnett said. "Ms. Ledbetter worked with staff on how they identify the components of exemplary writing and shared ways they can infuse formative assessment strategies into their lessons and assignments. She also worked with the ELA teachers in grades 6-12 this week and will be following up with both groups in February."
"The overall purpose of the workshop is for social studies teachers to learn more strategies for incorporating writing in the content area through quick writing lessons, analysis of texts, ways to peer conference, and examining ways for students to elaborate texts," said interim District Social Studies supervisor Jeff Snyder, who worked with Barnett to craft the workshop for his content teachers. "Mary did an outstanding job providing tangible ways for teachers to infuse ELA in a variety of ways by having teachers analyze examples and produce their own products. My goal is for each teacher to feel more comfortable using language aligned with the English Language Arts department and then take aspects from this workshop and start infusing it in their classroom."
Ledbetter earned an M.A. in English from Michigan State University and has a B.A. in English and Speech from Western Michigan University. She not only has extensive teaching experience in schools across the United States and Canada—working with students K-12 — but has been a college instructor as well. As a consultant and presenter, Mary has spoken at NCTE, TMSA, Gifted and Talented Workshops, and National and International Reading Seminars and is currently a presenter/consultant for the Bureau of Education and Research. She owns and operates Mel's Pen LLC.
Pictured (left to right): Orchard Valley Middle School social studies teacher Bob Rourke and his colleagues from Chestnut Ridge Middle School, Missy Wechter, and Michelle Maccarella, listen as presenter Mary Ellen Ledbetter provides strategies for infusing writing in the social studies curriculum.