Return to Headlines
Visiting Neuroscientists Take Brains of WTHS Psychology Students to Another Level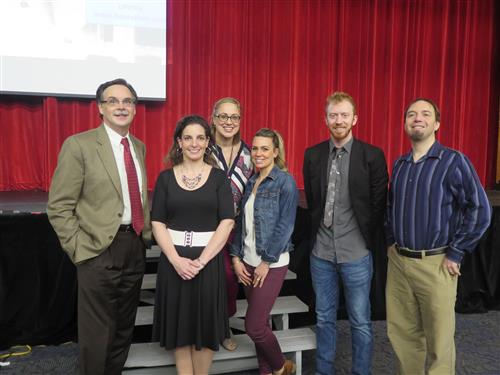 Thomas Jefferson University Executive Associate and Director of Finance Mr. Robert Bartosz, WTHS psychology teachers Ms. Krista Scardino-Welch, Mrs. Jennifer Monaco, Mrs. Megan Foster and Thomas Jefferson University neuroscientists Dr. Nathan Fried and Dr. Mijail Serruya pose before the start of the assembly.
The study of pain is painstaking, and the depths of neurotechnology can be nerve-wracking. But as a pair of visiting neuroscientists from Thomas Jefferson University shared with Washington Township High School psychology students during an assembly on February 21st, studies of the brain ultimately are mind-blowing and can make for quite interesting and fulfilling careers. The tradeoff? A commitment to lifelong learning.
Dr. Nate Fried, a postdoctoral fellow at the University of Pennsylvania's Department of Neuroscience, told the room of teenagers that he is currently in grade 25 in an educational journey that has had him working in research positions throughout the world with primates, lantern fish and sea turtles, and, of course, rats and mice, in studies of Alzheimer's disease and genetic manipulations and in scientific journalism with scientists and patients. Dr. Fried shared his background in the study of migraine pain, a complex neurological condition that is the third-most prevalent neurological condition on earth. He also discussed the current opioid crisis.
"We do not have an opioid epidemic," he said emphatically. "We have a chronic pain epidemic. One hundred million people in this country suffer from chronic pain. That is one-third of the U.S. population. The annual cost to this country in health care and lost productivity is between $560-635 billion. Pain is a huge public health concern. We have found that opioids are the best way to treat chronic pain, but they are highly addictive. Ninety-one Americans die every day from opioid overdoses and nearly one half of these deaths are from prescribed fentanyl."
The challenges for neuroscientists like Dr. Fried, then, is to better understand neurocircuitry and how pain is transmitted to the brain, find an alternative to opioids for managing pain (i.e. acupuncture, or optogenetics – which Dr. Fried is studying), or find a way to redesign or chemically modify opioids to make them safer for pain management.
Dr. Mijail "Misha" Serruya, a physician, a scientist and former Fulbright Scholar who spent 15 years at Brown University and is in grade 37, agreed with the challenges of creating the next generation of medicine to deal with brain pain, concussion and trauma. He discussed the challenges of behavioral neurologists like himself who work through millions of neurons in the brain to help pinpoint and alleviate the causes of not only chronic pain, but also paralysis and memory loss.
"We are in the midst of a neurotech revolution," Dr. Serruya said. "My research includes the study of living electrodes that can be implanted into the brain to restore movement. Viable memory prosthetics and spinal cord stimulators are on the horizon. I believe we are five to 10 years away from having a wireless implant that will be able to give sustainable movement to people who would have otherwise remained paralyzed. It is a complicated endeavor, but it could be lifesaving."
And potentially life-altering, which is why both visitors encouraged those students who are drawn to the study of the brain to give thought to all the possibilities that come with the study of the sensory center and to the ever-changing field.
"If you are interested in neuroscience, you are embarking on a never-ending journey," Dr. Fried said. "I had never imagined that I would have a Ph.D. in this fascinating field, but I assure you, if you have a passion for this, you will have an interesting, cool job for life."
"The work neuroscientists do is so important to our understanding of the brain and behavior," WTHS psychology teacher Krista Scardino-Welch said. "We are very lucky to be able to provide these types of presentations to our psychology students where they are able to see how the psychology we study in the textbook applies to everyday life and problems. We cannot thank Mr. Bartosz, Dr. Fried, Dr. Serruya, and Jefferson University enough for providing our students with such a wonderful opportunity."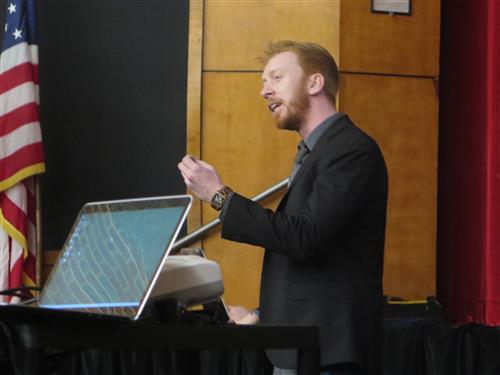 Dr. Nathan Fried shares his passion for neuroscience with WTHS psychology students.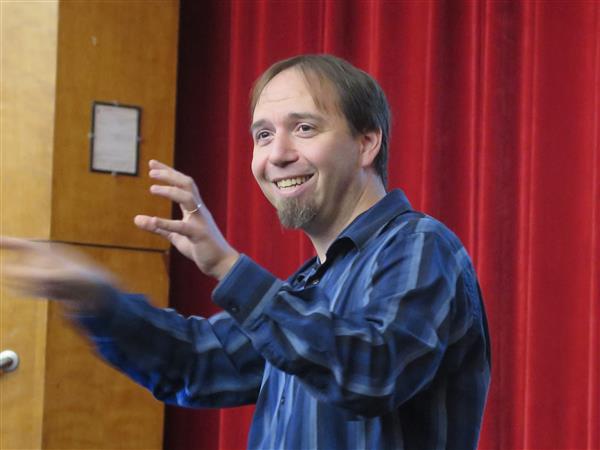 Dr. Mijail Serruya discusses neuromotor prosthetics during assembly.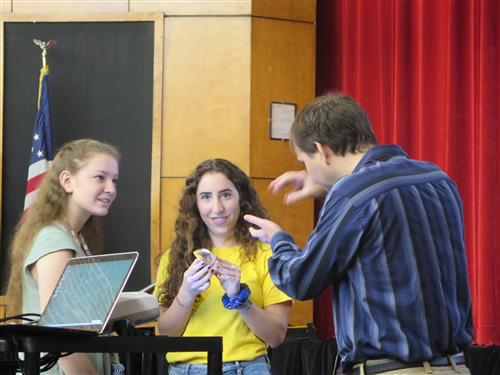 WTHS seniors Haley Murphy and Maddie Gillen discuss research findings with Dr. Mijail Serruya.