Return to Headlines
Feliz Dia de los Muertos!
Bunker Hill Middle School Students Create Sugar Skulls in Honor of the Day of the Dead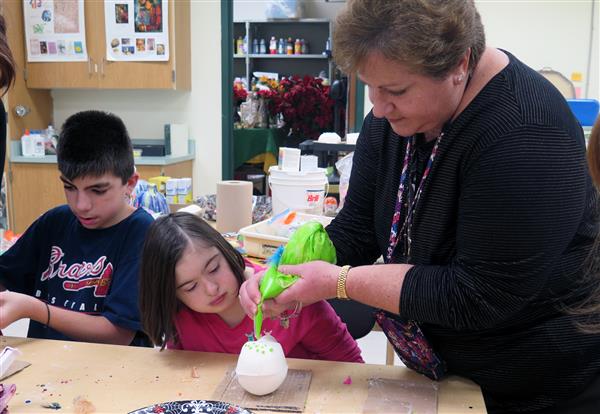 WASHINGTON TOWNSHIP – Students across all subjects areas at Bunker Hill Middle School combined art work with world language study this week, creating sugar skulls to commemorate the Mexican holiday, "Dia de los Muertos," or the Day of the Dead. Art teachers Bethany Franz and Mike Murro reached out to the entire school, inviting classes to spend blocks of time creating and decorating the skulls. A record number of students made their way to the art room to celebrate culture and creativity, fashioning 314 skulls.
On Tuesday and Wednesday, October 30-31, the classes created the skulls. The students stirred and mixed a combination of sugar, meringue powder and water before pouring that into a mold of a skull. The molds then dried overnight. On Thursday and Friday, November 1-2, the classes returned to decorate the skulls, using bright, colorful "Royal Icing," glitter, feathers, shiny paper and more.
Sugar skulls are one of many traditions that honor the deceased on the Day of the Dead, which is a holiday celebrated throughout Mexico and around the world in many cultures. The holiday focuses on gatherings of family and friends to pray for and remember friends and family members who have died. It is particularly celebrated in Mexico, where it is a national holiday. The celebration takes place on November 1–2, in connection with the Catholic holidays of All Saints' Day (Nov. 1) and All Souls' Day (Nov. 2).
Franz has been doing sugar skull decorating for years with her classes, and this was the second year that the rest of the school was integrated into the process. Skulls lined the tables and carts in Murro's art room, which was transformed into the "Sugar Skull Workshop."
Please click here for more photos from the sugar skull workshop.
- WTPS -