Return to Headlines
Bunker Hill Middle School Dedicates "Bulldog's Backyard"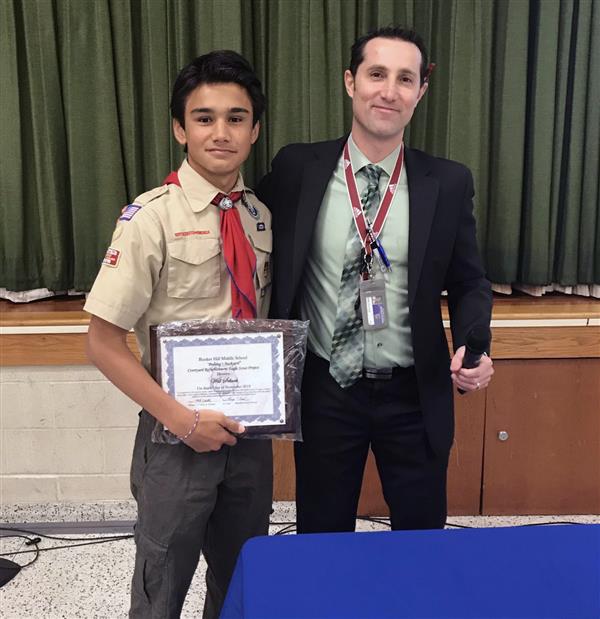 The Bunker Hill Middle School community joined Washington Township High School freshman Will Schuck during a dedication of the "Bulldog's Backyard" on Tuesday, November 6th. Schuck devoted months of planning and work in renovating the courtyard of his former school as his Eagle Scout project for Troop 81.
Schuck received approval from the Washington Township Board of Education to launch the project that included new benches, flower boxes and a new pathway. The space not only beautifies the school grounds but also will accommodate many outdoor celebrations, including student-of-the-month recognitions. The courtyard also will serve as an open-air classroom that particularly will benefit the learning of the school's multiply disabled and autistic students. In addition, it will be embraced as a welcomed location for alfresco lunching and socializing.
The courtyard includes a plaque from Schuck that reads:
"This courtyard is for the students and staff of Bunker Hill Middle School to learn, socialize and to enjoy and was made in the spirit of kindness, cooperation and teamwork. My hope is that the garden and the courtyard will bring happiness and purpose to the school, students, staff and future. I also hope that creativity can be used to beautify and add on further to the courtyard."
The plaque also thanks the school and Board of Education and a number of area businesses and supporters, including: Angelo's Pizza, Bloomers, Danny Jr.'s, Robert and Deborah Dairy, Duffields, Home Depot, Ben Fogg, Luigi's Pizza, Lowe's, Peach County Mulch, The Myers family, Puglia's, The Ranson family, Sherwin Williams, and Troops 57 and 81.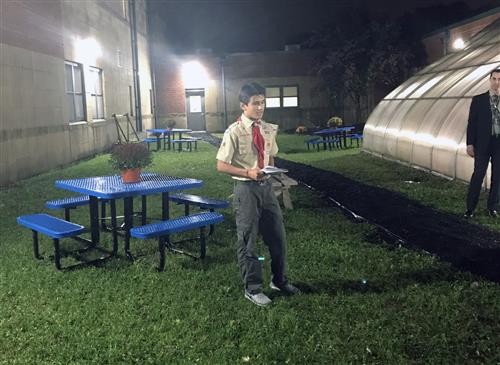 "February 1, 2017, was my first day as the new principal at Bunker Hill Middle School, and I knew only one of my 600 students, and that was then-eighth-grader Will Schuck," Mike D'Ostilio said. "I had known Will since he was in fourth grade and as my den chief for Cub Scout Pack 220, for which I served as the leader. On that first day, Will and I stood in the hallway, looking through the window onto the courtyard where the weeds were waist high and the trees were overgrown. We realized that the space had potential and would make a great Eagle Scout project. The beautiful space that we have today is because of Will's vision, his leadership and his hard work. I am personally proud of his willingness to be a role model to our Bunker Hill students and to the scouts that he helps. We are grateful for his efforts and this space and will put it to great use."
In addition to generous donations that Schuck secured, he received the assistance of Boy Scout Troops 57 and 81 and Cub Scout Pack 220. Technology education teachers Patrick Goliszewski (BHMS), Kyle Falzone (WTHS) and Mike Repasy (WTHS), and District technology education supervisor Steve Whalen, worked to craft a commemorative engraved sign for the space. Julie Lyons' Greenhouse Club worked to rejuvenate and lay mulch. During the dedication ceremony, D'Ostilio and assistant principal Greg Muscelli presented Schuck with an award, a copy of which will be displayed at the entrance to the courtyard. BHMS music teacher Nancy Dickinson and her chorus performed "This is Me" from The Great Showman to enhance the event.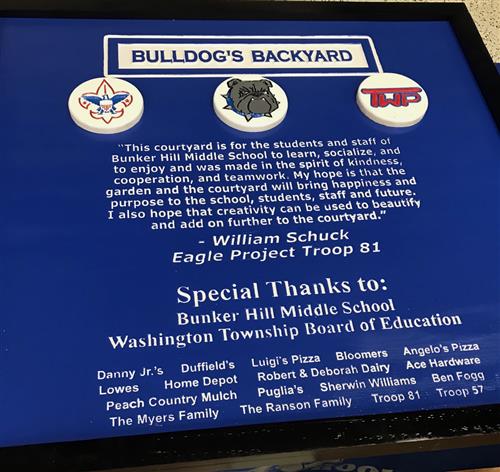 A plaque hand-crafted by technology education teachers Patrick Goliszewski, Kyle Falzone and Mike Repasy commemorates the work of WTHS freshman Will Schuck.