Return to Headlines
53 WTHS Students Comprise School's Second Annual Science Naional Honor Society Induction Class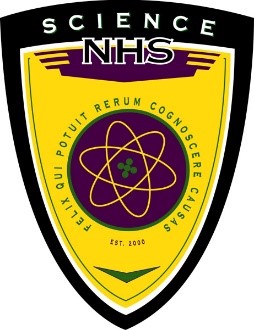 Fifty-three students were honored as Washington Township High School's Science National Honor Society (SNHS) second induction class on February 6, 2019, in the school's 11/12 auditorium. Established in 2000, the SHNS is a prominent scientific organization that celebrates scholarship and achievement in the sciences and engenders a new group of young thinkers who will be the future of industry, research and scientific exploration for America. The organization currently boasts 1,500 chapters located in all 50 states.
Co-advisors and WTHS teachers Shannon Hornibrook and Mary Howard, along with Science National Honor Society Executive Board members Rachel Carpinelli, Gianna DiGiacomo, Andrea Eleazar, James Gallicchio, Caitlin O'Brien, Madison Schmidheiser, Persia Vahidi, and Mary Xoxe, organized the event. Former science faculty member Denise Merrill served as a guest speaker. Merrill presented her perceptions of how science has touched her life, sharing educational, career and personal experiences with the audience. Superintendent Joe Bollendorf, WTHS principal Jonathan Strout, District science supervisor Dr. Patricia Hughes and teacher Amy Carpinelli shared the stage to honor the students.
"The science department faculty is proud of the achievements of the inductees and honors them for their focused effort and work ethic necessary to meet the requirements for entrance to the honor society," Dr. Hughes said. "Through their outstanding commitment to academic excellence in all coursework at Washington Township High School, especially in the area of science, these students have earned special recognition by being accepted into the Science National Honor Society and pledged their oath: 'I promise to do my best to represent the academic goals of the Science National Honor Society, to participate in community service, and to encourage the pursuit of scientific knowledge that benefits all mankind'."
"Mrs. Hornibrook and I are very proud of our students for their achievements and academic success in the sciences," Mary Howard said. "It is the hope of the science department faculty that our new SNHS members will use their science studies to better understand how the world around them works and use their science knowledge to the benefit of others and seek to improve and change our world."
The WTHS 2019 Inductees included:
Christopher Altamuro, Zachary Andrews, Sebastian Aseron, Jiancarlo Atienza, Oshaz Bajwa, Olivia Barnes, Sreeta Basu, Justin Bautista, Alyssa Bollendorf, Jennifer Boyle, Matthew Brady, Madison Briggs, Bradley Cahill, Devon Calhoun, Madison Canino, Giovanna Castorina, Kayla Chi, Kate Cochran, Brendan Connor, Caitlyn Crompton, Allyson Dewey, Kristina Diaz, Haydn Dotterer, Daniel Dougherty, Jack Dunn, David Forcinito, Madison Frapaul, Brianna Giordano, Lindsay Hager, Vincent Lamonica, Lauren Lauletta, Jason Leonard, Colin Ly, Tristan Ly, Giana Maltese, Matthew Marmon, Jordyn Milou, Jessica Nelson, Daniel Oberman, Emily Pancoast, John Parker, Lana Peters, Isabelle Pingol, Jocelyn Proferes, Gabriella Raspanti, Harrison Rauh, Elizabeth Rizzo, Audrey Ross, Simon Singh, Mackenzie Smith, Julia Szwedyk, Paige Tatus, Zachary Weiserth.