Return to Headlines
Washington Township High School's Air Force JROTC Program Receives Inspection from Regional Director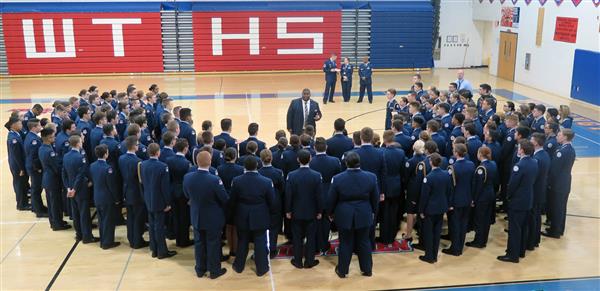 WASHINGTON TOWNSHIP – Members of the Washington Township High School's Air Force Jr. ROTC program welcomed Ron Henderson to campus on Wednesday, March 13, 2019. Henderson is the Regional Director for Air Force JROTC Region 6, based out of Montgomery, Alabama. He was at WTHS on Wednesday to perform a full inspection of the school's corps, from curriculum, to budget, to drill team, and everything in between.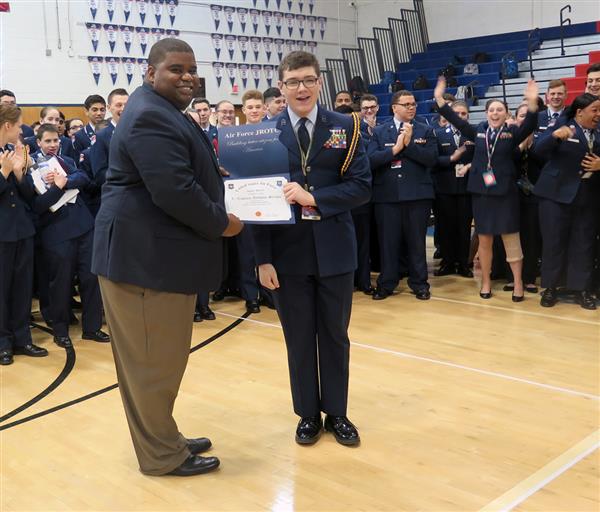 Henderson is responsible for inspections of units in six states, including New Jersey. He said he has 115 schools under his inspection umbrella. Headquarters inspects school JROTC programs once every three years. There are more than 900 JROTC programs across the country, and more than 120,000 cadets in all.
"I'm here to do a unit evaluation for the school," Henderson said, noting that the school units perform their own inspections in the off years. "What we really want to do is make sure that the program is doing the proper things to improve the education of all our cadets."
Henderson visit to WTHS started with an administrative briefing that included Superintendent of Schools Joe Bollendorf, WTHS Executive Principal Jonathan Strout, Executive Assistant Principals John Saverase and Steve Selby, Board of Education President Julie Kozempel, Booster Club vice president Todd Woodward, American Legion representative Bob Abbott, and District social studies department chair Jeff Snyder. He then attended a unit briefing, led by Cadet Col. and Inspector General Camryn Wade, Cadet Commander Chardonnay Schwartz and the rest of the unit's leadership. After the briefing, Henderson went through the unit's presentation piece-by-piece, asking questions to officers and cadets at large, requesting clarification on information they presented.
Next, inside the school's 9/10 gymnasium, Henderson inspected each of the unit's flight wings, lightening the mood by asking each wing if it was better than the one before it. He then inspected the unit's 2nd Year 30-Command Drill team, led by cadet Cayla Wade.
Henderson spent significant time speaking generally with the unit on the gym floor. He spoke about his background – 24 years in the Air Force, including an active stint as a helicopter rescue pilot in Iraq, Afghanistan and several other outposts. He's been in his current role for one year.
After his speech, he was honored to present three Washington Township cadets with the 2018-19 Top Performance Recognition certificate, which goes to only the top 2 percent of cadets. Honorees included Cadet Col. Camryn Wade, Cadet Capt. Gianni Sacca, and Cadet Capt. Anthony Siravo.
Henderson later went over the unit's financial books with bookkeeper Marge Litka and observed the unit curriculum, as taught by Lt. Col. Beth Ann Lumpkin and Master Sgts. Richard Harris and Jeffrey Hood, before concluding his day with an out-brief with the instructors and principal Jonathan Strout.
Please click here for more photos from the inspection.
- WTPS -