Return to Headlines
OVMS Student-Engineered K'NEX Roller Coaster Draws Questions and Applause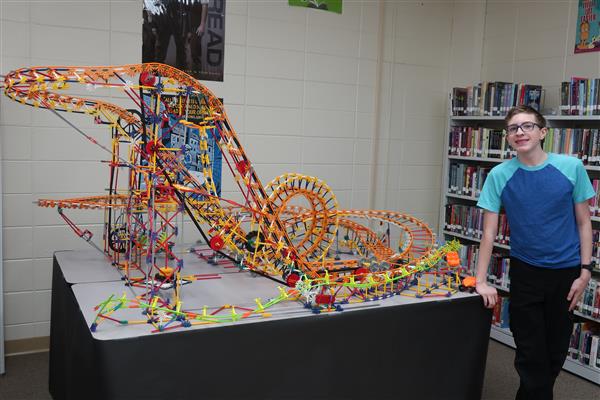 Orchard Valley Middle School eighth-grader Andy Lee made a believer out of the school's librarian Frank Indriso, and a 6x6 table display in the school's instructional media center is now devoted to Lee's impressive roller coaster that he painstakingly crafted out of K'NEX, building kits that feature toy bricks, rods and connectors. The model takes one's breath away, as a ride on an actual coaster of this design most certainly would.
"Early in the school year, Andy noticed a box of K'NEX in my office," Indriso said. "He tells me, 'I'm a K'NEX engineer', and I thought okay, we will see about that. I'll give him the most difficult K'NEX project that I have. So, I challenged him to the complete the roller coaster, which he did. Andy and I have built a nice relationship. He's got a gift with his hands, and he really IS a K'NEX engineer!"
In fact, Lee took the roller coaster challenge one step further, and after completing the original model, he "went custom" on two additional coasters. He estimates that he has spent 30-45 minutes a day, during split lunch or study hall on most days, linking more than 700 pieces and using battery power to make it an operational coaster. The display, which showcases Lee's patience, ingenuity and creativity, often attracts interest and questions from his classmates who have watched its daily growth.
"I have this stuff at home, and I like to fidget and experiment," Lee said. "It is very challenging and very rewarding. I like the gear mechanisms, and I'm fascinated by how they work. My goal is to complete in it May, and I'm hoping that the car can make it through the loop and around the course."
The thought of that is, to Lee, as exhilarating as the experience of riding his favorite coaster "Fahrenheit" at Hershey Park.
And the thought of taking it down at year's end?
"It will break my heart to take it apart," he said. "I think we should leave it in here as a memorial."