Return to Headlines
Orchard Valley Middle School Drama Club Attends Jr. Thespian Festival, Returns with Several Awards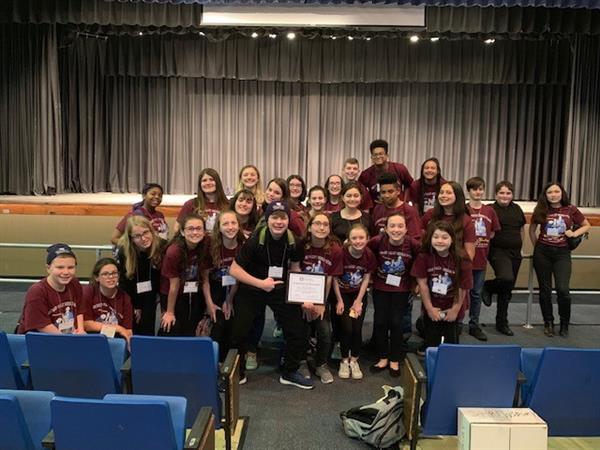 WASHINGTON TOWNSHIP – On Saturday, May 18th, 27 members of the Orchard Valley Middle School Drama Club, representing OVMS Jr. Thespian Troupe 89550, attended the New Jersey Junior Thespian Festival at Toms River North High School.
The students participated in a variety of workshops, ranging from "Stage Combat," to "Theatre as a Sport," to "Improvisation and Audition Techniques," to "Choreography and Musical Theatre Song and Dance." The students also got to perform some selections from their spring musical, The Addams Family, and received an Excellence in Showcase award.
Additionally, some OVMS students participated in individual events, where they could perform a monologue, a duet scene, or a solo or duet musical theatre piece. The students were scored by two professional judges in a variety of categories. Three students from OVMS were awarded a "Superior" score for their individual event:
- Xander Jackson – Monologue: "Dad Left on a Reindeer"
- Talia Mazzuca and Annabelle Corigliano – Duet Musical Theatre: "Some Things Are Meant To Be" from the musical Little Women.
The OVMS Drama Club and Jr. Thespian Troupe is under the direction of Alyssa Campanini, Amy Leso, Larry Burke and Kelly Walz.
In the top photo, OVMS poses with the "Excellence in Showcase" award they received for their performance at the festival.
In the photo at left, OVMS Superior Award winners (left to right) Annabelle Corigliano, Xander Jackson and Talia Mazzuca pose with their awards.
-WTPS -