Return to Headlines
District Faculty Members Earn EdTech Badges through Inaugural "Destination: Certification" Workshops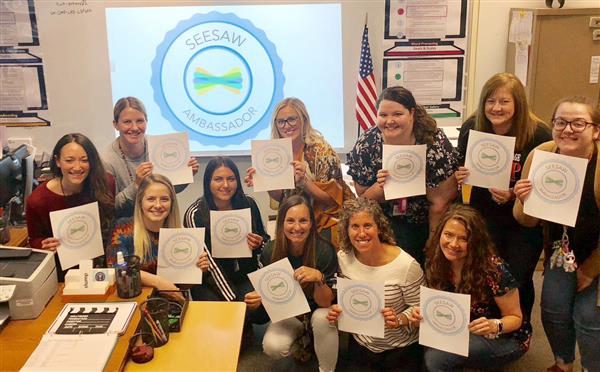 WASHINGTON TOWNSHIP – Washington Township Public Schools educators recently took part in a three-part Destination: Certification workshop, adding to their education technology ("edtech") expertise. Hosted by District technology integration specialist Kathi Kersznowski, the workshops provided opportunities for teachers to gain certifications in edtech tools they can use in their classrooms.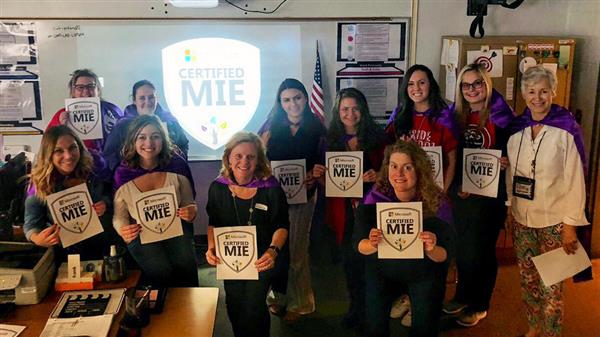 "I came up with the title 'Destination: Certification' as a way to entice those edtech leaders in our district to pursue deeper levels of involvement with some of our most popular digital tools," Kersznowski said. "As a technology integration specialist, I am passionate about elevating and celebrating our faculty – building capacity among our staff to be edtech leaders, experts and role models within their home schools."
This volunteer opportunity was made available to all District K-12 teachers and administrators, and sessions were offered after school hours from 4:30 to 6:30 p.m. The three workshops included:
Microsoft Innovative Educator (MIE)
MIEs embrace the use of Microsoft tools in the classroom. They join the Microsoft Educator Community and take online courses of their choice to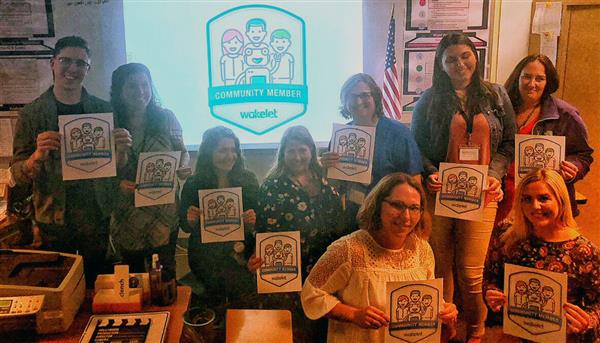 continue to grow and learn about ways to integrate Microsoft tools meaningfully. All of the attendees also took an introductory course on OneNote, therefore earning a purple "OneNote Avenger" cape in addition to the MIE badge from Microsoft.
Wakelet Community Member
Wakelet is a digital curation tool that allows users to create "collections" of digital resources for use by students and teachers. Power-users are encouraged to apply to become Wakelet Community Members, which gives them access to beta-features, behind-the-scenes information, a voice for feature requests and updates, access to the Wakelet team, and some fun swag for being dedicated participants. They also each received a digital badge to add to their professional portfolio.
Seesaw Ambassador
Seesaw is a powerful learning program that allows students to create and also capture evidence of their learning in what is known as a digital portfolio. Washington Township subscribes to Seesaw for Schools for all classes in grades K-2, so each teacher has class accounts. Seesaw Ambassadors get sneak peeks at upcoming features and insider information, are required to provide some sort of training for others, and earn a digital badge to share professionally or on social media.
"I was absolutely bursting with joy and pride for these amazing and dedicated teacher leaders who came voluntarily after school to achieve certifications and ambassadorships," Kersznowski said. "I personally have contacts at each of these companies, too. These contacts were watching from afar and have let me know that they were so impressed with the level of ambition shown by these Washington Township professionals."
Kersznowski said she plans to offer five Destination: Certification opportunities again in the fall of 2019, which will include all of the above plus two more certifications: Flipgrid Student Voice Ambassador; and Nearpod Certified Educator.
- WTPS -