Return to Headlines
Merge Cubes Give Wedgwood Students Augmented Look at Solar System, Human Body
Second-graders in Kristin Seymour's class at Wedgwood Elementary recently turned into galactic explorers and would-be human physiologists thanks to the innovation of "Merge Cubes" and the assistance of technology integration specialist Kathi Kersznowski.
The Merge Cube, described by its San Antonio-based developer as "The hologram you hold in your hand," is a foam cube with different designs on each side. When held in front of the camera of an electronic device and while using a variety of Merge Cube apps, the cube is transformed into digital three-dimensional objects and scenes. Users can move and rotate the cube in their hands to see things from different angles.
Kersznowski entered the classroom with 10 Merge Cubes, introduced "Galactic Explorer," a free app that features the solar system, and had the students use the cubes in conjunction with their iPads. An augmented reality solar system appeared before their eyes, and planets actively rotated around the sun. The students were able to touch and enlarge the planets, learn facts about the universe and complete a scavenger hunt.
The students then used Merge Cubes and a kid-friendly app called "Mr. Body" to view the heart and lungs up close and to get a three-dimensional look at the human brain. The students also were able to access a fun app called "Merge things" that gives kids access to a collection of mini-games where, among other adventures, users can catch and play with an augmented reality pet, navigate treacherous valleys as they battle alien forces, listen to music on a virtual boom box, and even hold a campfire in the palm of their hand.
Kersznowski will be introducing Merge Cubes at the June ISTE Conference (International Society for Technology in Education) and providing strategies to attendees on how to integrate this technology into elementary classrooms to engage and ignite wonder in students.
"I'm hoping to be able to bring more Merge Cubes, and also virtual reality headsets, to Washington Township so that I can introduce this fantastic technology to many more classrooms across the district," Kersznowski said.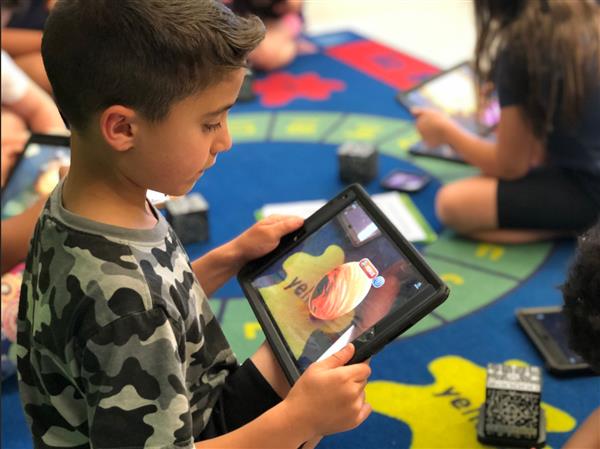 Wedgwood second-grader Eric Caveng explores Venus in the Galactic Explorer app.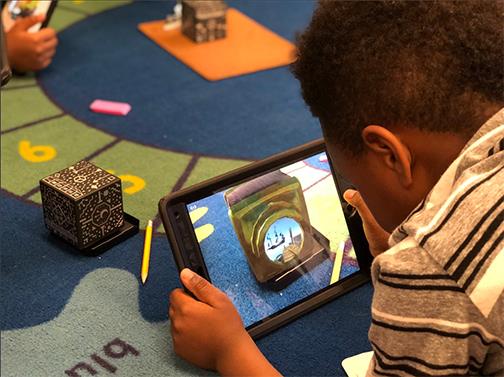 Ethan Manages explores magical hidden works with Merge Things app.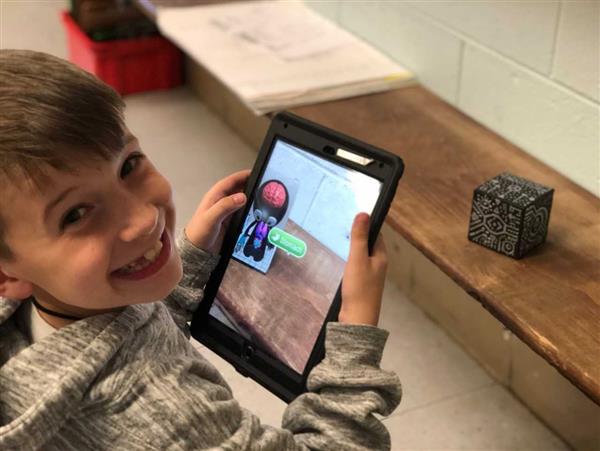 Kevin Yankanich enjoys the Mr. Body app.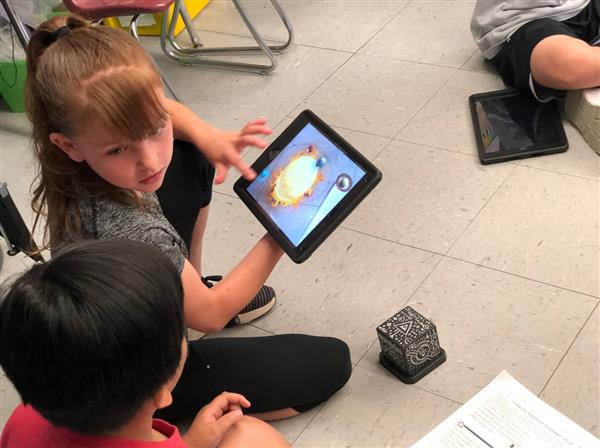 Shayna Gallagher and Dylan Dael view the whole solar system in the Galactic Explorer app.