Return to Headlines
Remembering Coach Schuenemann
Washington Township Remembers Mike Schuenemann, Raises Money for Scholarship through Inaugural Tennis Tournament

WASHINGTON TOWNSHIP – A champion wasn't determined on the court during Wednesday afternoon's Coach Schuenemann Memorial Tennis Tournament, but the event itself was a victory for everyone involved. The inaugural tournament was played in memory of former Washington Township High School tennis coach Mike Schuenemann, who lost his battle with cancer on January 9th. An amazing 40 doubles teams – featuring staff members, high school tennis players and WTHS alumni – paid the $30 entry fee, with all proceeds going toward the newly established Coach Schuenemann Memorial Scholarship Fund.
"What a great event. We were moved by the turnout and the generosity," said WTHS teacher Andy Holmes, who helped run the tournament alongside colleagues John Basile and Matt Kiser.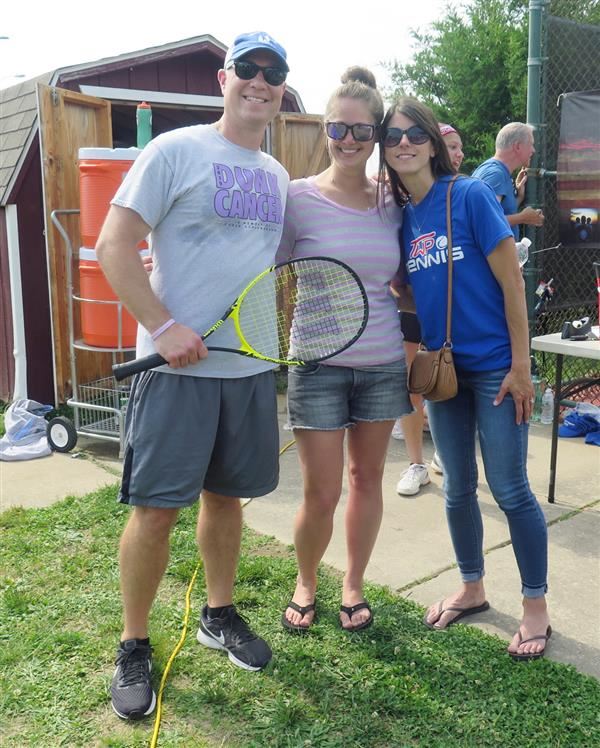 When all donations are counted, including monies raised through an online fundraiser and through the sales of on-site barbecue from WTHS teacher Matt Groark's Groark Boys BBQ trailer, Holmes said more than $6,000 will be added to the scholarship. That money will fund scholarships for graduating WTHS boys and girls tennis players this year and in the future. Holmes said they plan to run the tournament annually, as well.
Spirits were high from the moment that players and spectators arrived at the courts on Wednesday. WTHS graduate Ryan Francisco spun tunes over the speakers, players joked around with one another and many hugs and high-fives were shared. The teams were placed into groups of 6-7 on each of the six courts, where they played round-robin-style matches – first to three games wins. The plan was to have the individual court winners compete in a tournament of champions to determine an ultimate winner, but the forecasted storms forced play to stop before 6 p.m. That, however, didn't matter much. That fact that so many people came out in memory of Schuenemann, with his wife, three children and several other family members in attendance, was the lasting memory of the afternoon.
"I don't even have the words to describe how much I appreciate what Washington Township has done for our family from the very beginning, even when Mike was just sick," Schuenemann's wife, Lauren, said while watching the tournament on Wednesday. "Matt Kiser, Andy Holmes, coach (John) Basile, Matt Groark, they all helped put this together, the scholarship, everything. It's just awesome that they wanted to do this to keep (Mike's) name going. I can't describe how thankful I am."
The event was bolstered even more by a visit from celebrity Phil Rosenthal, the host of the Netflix series Somebody Feed Phil and one of the writers and producers of the series Everybody Loves Raymond. Rosenthal held an Instagram contest asking for videos arguing why he should come to an entrant's home, restaurant or business and have them feed him. Matt Groark and some WTHS responded by inviting Rosenthal to attend the tournament and nosh on Groark's BBQ. Rosenthal and his crew were on hand Wednesday, happy to add some color to the event. With assistance from the promotion of Rosenthal's visit, Groark raised more than $1,300 via a Facebook fundraising drive to add to the as part of the Coach Schuenemann Memorial Scholarship Fund.
Click here for more photos from the event.
- WTPS -