Return to Headlines
"Mike's Mobile Lemonade Stand" Helps Bunker Hill Middle School Class Raise Money for Childhood Cancer Research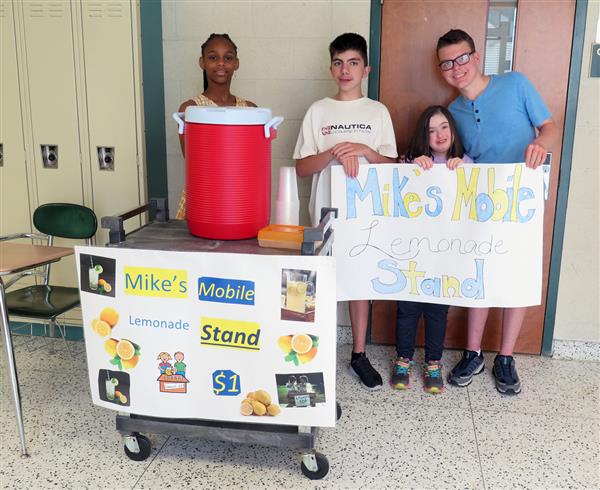 WASHINGTON TOWNSHIP – Michael Kelly has fought cancer-causing tumors successfully, and now the Bunker Hill Middle School eighth-grader and his classmates are doing what they can to help others with the fight, as well.
Kelly and the students in Mrs. Briana DiBlasio's multiply disabled class at BHMS hosted the "Mike's Mobile Lemonade Stand from May 23-29, 2019. During seventh and eighth period each day, the students manned tables in the center of the hallway on each floor, selling cups of lemonade for $1.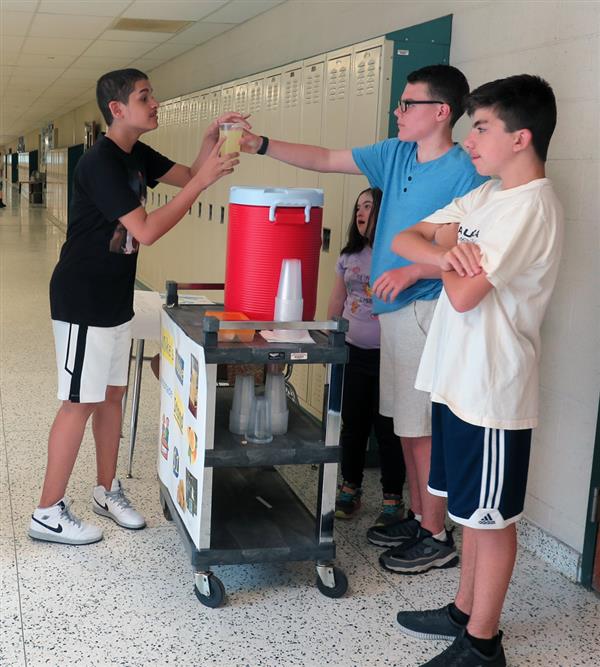 More than $300 was collected, all of which will go to the Alex's Lemonade Stand Foundation for childhood cancer research. In addition, Kelly's father's company, Elsevier, has agreed to match the funds raised to add to the donation. The stand serves dual purposes: first, it raises money for a great cause; and second, it gives the students valuable real-life experience waiting on customers, accepting money, making change and serving the lemonade.
Michael Kelly was just 22 months old when he was diagnosed with Opsoclonus Myoclonus Ataxia Syndrome (OMS), which is a rare autoimmune disease that affects the brain. The probable cause was a cancerous neuroblastoma tumor, and the fluid that surrounds the tumor is the same that surrounds the brain. When Kelly's immune system kicked in to fight the tumor, it attacked his brain, as well, causing his OMS (eye spasms, body tremors and neurological impairments).
From 2006-09, Kelly received monthly chemotherapy treatments at the Alex Scott Day Hospital at Children's Hospital of Philadelphia. Alex Scott is the founder of the Alex's Lemonade Stand Foundation, and she also suffered from neuroblastoma. While being treated for OMS in 2007, Kelly started physical, occupational and speech therapy at preschool at Grenloch Terrace. Then, in 2009, he was considered to be in remission. At his 14-year well visit this week, Kelly's doctor declared him a "healthy dude," according to his mother, Nicole Kelly.
In the top photo, Bunker Hill Middle School students (left to right) M.J. Dunlap, James Filteau, Gabby Iannone and Michael Kelly man the "Mike's Mobile Lemonade Stand" on Tuesday, May 28th.
In the photo at left, BHMS seventh-grader Jose Rivera (left) takes his lemonade from Mike Kelly, a cancer survivor and the namesake of "Mike's Mobile Lemonade Stand."
- WTPS -