Return to Headlines
District to Launch "Building Better People" Initiative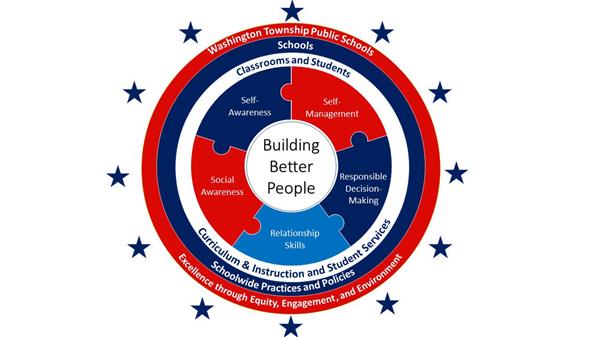 In addressing a need, identified through recent strategic planning, for increased emphasis on student character development, social/emotional health, student life and life skills, the District will be launching the "Building Better People" (BBP) program this fall. The Pre-K -12 program will focus on developing students' self-awareness, self-management, responsible decision-making, relationship skills and social awareness. The program will be supported by rules, policies and procedures, and enhanced by restorative practices that focus less on punitive measures and more on teaching students how to right their wrongs.
"As a District, we have done extensive research and have identified a need for a program that addresses the need to develop these skills across every learning level," Superintendent of Schools Joe Bollendorf said. "We believe strongly that making this an area of emphasis will not only help us address equity and discipline issues, but also will help us turn out better, higher-achieving, more-caring and mindful students."
Charged with developing a PreK-12 program that includes social-emotional learning components, the Director of District School Counseling Jennifer Grimaldi, Director of Elementary Education Gretchen Gerber and Anti-Bullying Coordinator and Middle Level Executive Assistant Principal Theresa Pietrowski collaboratively worked together to develop BBP.
The BBP program focuses on social and emotional learning, the process by which children and adults acquire and effectively apply the knowledge, attitudes and skills necessary to understand and manage emotions, set and achieve positive goals, feel and show empathy for other others, and make responsible decisions. As a result of school-wide, grade-level, and classroom experiences, all Washington Township students will focus on social-emotional learning. Through experiences designed to foster self-awareness, self-management, responsible decision-making, relationship skills, and social awareness, students will work to develop key skills which are necessary to lead happy and fulfilled lives.
Age-appropriate lessons in the BBP program will be implemented at all levels and will coincide with several other initiatives:
Grades PreK-12: School Safety/School Climate Team
As per the New Jersey Anti-Bullying Rights and code, each school is required to have a School Safety/School Climate Team. These teams meet twice a year to review HIB reporting and school climate building initiatives to promote a positive school culture and climate. ​
​
As part of Building Better People, our district will be developing a District level School Safety/School Climate Team which will be comprised of at least one representative from each school's team. The district team will analyze ongoing trends and data to develop a consistent model while meeting the needs of each school. The district team will ensure that a common language is adopted and implemented throughout all of the school initiatives.​
PreK-12: No Place for Hate®
After piloting the Philadelphia Anti-Defamation League's No Place for Hate® program in five District schools last year (Bells, Wedgwood and Whitman Elementary Schools, Chestnut Ridge Middle School and Washington Township High School), the program will be expanded into all District schools in 2019-20. No Place for Hate enables schools and organizations to challenge anti-Semitism, racism and bigotry in all forms. By providing an innovative and powerful model for creating more inclusive environments, No Place for Hate aims to reduce bias and bullying, increase appreciation for diversity, and build communities of respect. (https://philadelphia.adl.org/noplaceforhate/)
PreK-5: The Positivity Project
The Positivity Project is a curriculum that teaches positive psychology's 24-character strengths that exist in every person and empowers students to build positive relationship and become their best selves on the premise that Other People Matter, and by developing a #OtherPeopleMatter mindset.
PreK-5: Mindfulness
Mindfulness lessons will be incorporated in all elementary classrooms each morning or after lunch/recess beginning this fall. Mindfulness practices will help students to regulate their emotions, decrease stress and focus their attention. (Mindfulschools.org)
PreK-5: Restorative Justice Training
This program will be introduced to elementary students identified for support in the development of the necessary decision-making and problem-solving skills used to make positive connections with peers, teachers and the school community. The program is built upon lessons in respect, responsibility, positive psychology, relationship-building, and relationship-repairing. The program will include exercises and strategies for learning how to control impulses, honing proper social skills and developing social-emotional skills.
Grades 6-12: ASPIRE
The District will be introducing middle and high school students to ASPIRE (A Smoking Prevention Interactive Experience), a bilingual online youth tobacco prevention program. Affiliated with MD Anderson Cancer Center in Houston, the program addresses the dangers of smoking, including vaping, e-cigarettes, hookah and synthetic marijuana. The program will be used not only for educational purposes, but also as part of a District-wide effort to make school discipline less punitive and more restorative.
(https://www.mdanderson.org/about-md-anderson/community-services/aspire.html)
Grades 6-12: Building Better People Experiences
BBP lessons will be implemented each month​. Each BBP lesson will be related to a Social Emotional Learning Competency, and the character traits from K-5 will be reinforced throughout the program.
Some examples of the BBP lessons already planned for grades 6-8 are as follows:​
Vaping ​
Rumors and Gossiping​
Stereotypes & Racial Stereotypes ​
LGBTQ Awareness ​
Personal Responsibility and Decision Making​
Autism/Disability Awareness ​
Safe and Responsible Use of the Internet​
​
In addition to our monthly BBP Lessons, our Middle Schools will also host Student Learning Community Activity Days to emphasize team building and a positive school climate.
It is our vision to utilize our Building Better People logo as an interactive tool that includes direct links to each lesson. Staff can easily access the lessons, materials, and presentation links ready for classroom delivery.