Return to Headlines
WTHS Football Looks Ahead to Second Year Under Mike Schatzman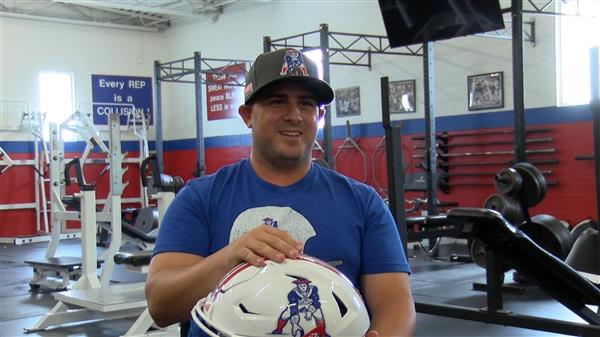 To hear second-year Washington Township head football coach Mike Schatzman assess his 3-7 rookie season and all that went into it, you would think his content specialty was math, not physical education.
"I knew there would be a learning curve as a first-year coach," Schatzman said. "But when people say they learn something new every day, well last year, I learned something new every second of every day."
Get out your calculators, class.
One year consists of 365 days. One day has 24 hours. Each hour has 60 minutes, and each minute has 60 seconds. The number of seconds in 365 days is 86,400 x 365, or 31,536,000 seconds.
That's more than 31 million lessons learned.
One year later, there are still a lot of numbers running through Schatzman's head, like the 120 players, 50 freshmen, 70 players sophomore to senior, 25 coaches and several hundred parents and boosters that are under his charge. Those numbers excite him, as does his 4-2-5 defense that he assures will be faster this season, and an offensive scheme that will move away from the run-dominant, wing-T scheme and show more passing and variation.
"We hope to showcase sound, tough, hard-nosed football," Schatzman said. "We will be a no-huddle team who is a little more dynamic offensively and more seasoned defensively. We want our guys to know their assignments and play with discipline. On both sides of the ball, we need to be more organized and stronger and to outwork teams. We want to be very efficient and build towards our strengths."
Thankfully, one of those strengths will be at the pivotal quarterback position.
Schatzman has the luxury of great competition under center, as Danny DeAngelis, a transfer from Gloucester Catholic where he played the position for two years, and Liam Friel, a 6-foot-4 junior, will be vying for the starting role.
"Danny is very athletic and more of a runner," Schatzman said. "He came to us very raw, but he has all the skills. He has the arm strength and the skill set to throw balls into tight windows, but we need to work on his decision-making in some of those scenarios. Liam is a very coachable kid, a fast learner with a great personality. He is more of a natural passer. It's a good situation for us to be in."
Another good offensive situation is the return of standout left tackle Jack Dunn. And Schatzman, the numbers guy, spouts them off when it comes to Dunn.
"Jack is 6-2, 280-pounds with a 1490 SAT and a 4.0 grade-point-average," Schatzman said. "He has been receiving a lot of interest from Ivy League and Patriot League schools. He is the model of what we are looking for. We call him 'Mr. Perfect.' He seems to not do anything wrong. He's genuine. He's humble."
And he's talented. As are Jaden Allen, a gifted receiver, and Bryce Kraemer, a transfer from St. Joseph in Hammonton. The pair are among a crop of two-way players who have Schatzman optimistic. The offensive line will welcome back three starters in Dunn, Sal Puglia and Mike LaRosa, and lots of competition for the remaining slots. He also points to Andrew Nocile, a 700-yard rusher a year ago, as an offensive catapult, and all-conference defensive end Zach Andrews, as well as linebacker Louie Griggs, as key returners. Among younger players, Jo'Nathan Silver, Jermaine Sisco, Billy Hohman and Brendan Leone figure into Schatzman's scheme.
Former Rutgers and NFL standout Ryan D'Imperio (special teams coach) joins Schatzman's staff, following a stint with the Williamstown program and rounds out a coaching staff that the head coach calls "energetic and consistent." This group includes: Jesse Cooper (defensive coordinator), Bo McKillop (offensive coordinator) and Dan Hearn (strength and conditioning). Anthony Sheridan, Shawn Sarin, Nick Fiorentino, Rob Egan, Matt DeFranco, John Wallace, Will Fennel, Ron Caccese, John Wiseburn, Trevor Sharkey, Carson Shultz, David Grosmick, Brett Eppolite and Rocco Matarazzo also will contribute from the sidelines.
"There's a different buzz and excitement around our program this year," Schatzman said. "As a staff, we are making sure that our guys are doing the right thing in the classroom and off the field and getting involved in the community. We think it's special to be a part of this program, and we want our guys to take pride in being a part of this team. We want energy, effort and enthusiasm.
"This is a new slate. Our motto is brick-by-brick because we are building a new foundation. Our current sophomores haven't lost a game in three years. Our junior group has only lost a handful of games. They don't know anything but winning. We have leadership and a lot to build on. We are excited and ready to go."