Return to Headlines
WTHS ELA Classrooms Put the Fun in Functional
The English Language Arts (ELA) teachers in Washington Township High School's 11-12 wing have put the fun in functional with new flexible seating that brings an immediately inviting and welcoming feel to classrooms that have been crying out for years for a makeover. New modular, triangular desks, bright-colored chairs and high-top tables bring the three-year curriculum adoption process to a close in time to welcome back upperclassmen for the 2019-20 school year.
The adoption, covering grades 6-12, also included the addition of 42 new core text titles to the curriculum that are current and relevant and can be used for both whole-class instruction and independent reading. Additionally, approximately 11,000 books were purchased to build classroom libraries at the middle and high school levels.
The teachers had their choice of colors in designing learning spaces with desks that can be aligned for collaboration or stand alone. Comfortable and sturdy chairs mold to the back and include a large storage bin. Desks include a hook to hold purses and backpacks to prevent tripping hazards in the classroom.
"This is the icing on the cake," District ELA supervisor Melissa Barnett said. "We started with grades 6-8. Last year, we did the 9-10 wing (at the high school) and finished this year with the 11-12. We basically redesigned the classrooms with the flexible seating and put in classroom libraries so that we could bring equity across the curriculum and give our students choice with the reading they are doing independently."
The new spaces are like a breath of fresh air for veteran teachers who have been yearning to reimagine their classrooms to accommodate 21st century learning.
"I have been teaching seniors for 12 years, and this is the first time that I've had the opportunity to get new furniture and to completely change the setup of the room," Shera Jahn said. "It has a more comfortable, modern feel. It doesn't have everyone sitting in rows, facing forward. I think it will make a big difference. It looks like a brand-new environment, which was exciting to me, so I think it also will be exciting for the kids, because it will change the whole atmosphere of the classroom and will make partner and group work a lot easier. I try to do a lot of out-of-the-box activities. I'm not the kind of teacher who is going to stand in the front of the room and lecture because that's not what we do anymore. This is so conducive to the new classroom that we were all hoping for."
The new configurations also include high-top tables that will be used as conferencing spaces to discuss student-writing and reading assignments.
"I chose bright, teal-colored chairs to brighten the space up and make it feel fun," said Melissa Leskie, who is beginning her 18th year at WTHS. "I put the desks in half-circle configurations so I can close them up for collaboration and open them up for whole group instruction. I have options. It allows for maximum flexibility of instruction, learning and independent work. The space makes me excited to come in, see color and see a layout that allows me to see all of the kids' faces and that allows the students to get up and move around. It's put a little life into the way I plan my lessons."
"An elementary classroom looks like this, why does a high school classroom have to look so sterile?" asked 16-year teaching veteran Melissa Natanni. "They are still kids. They're just big kids. I wanted something fun and light and bright and vibrant, and these lime-colored chairs fit the bill. I am really excited to see how the students respond, and how this changes the way I approach English and how I teach it. I think it will be much more collaborative and will allow the students to work with one another."
"I am really excited about the work the teachers did," Barnett said. "They spent hours and hours thinking about what is going to engage our kids, who are just so torn between distractions nowadays. They put a lot of thought and heart into this curriculum. I think the students will feel that sense of warmth that we created for them. It is our hope that these will be spaces where they feel accepted and welcomed. We are trying to inspire then to be passionate readers and writers."
Perhaps Natanni summed the spaces up best.
"These classrooms are functional and fashionable," she quipped. "Instead of me being the 'sage on the stage,' I'll be much more a 'guide on the side'."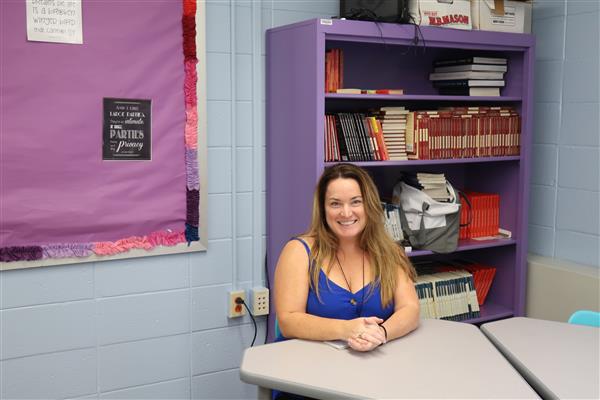 Washington Township High School ELA teacher Melissa Leskie sits in new teal-colored chairs that she selected for her classroom.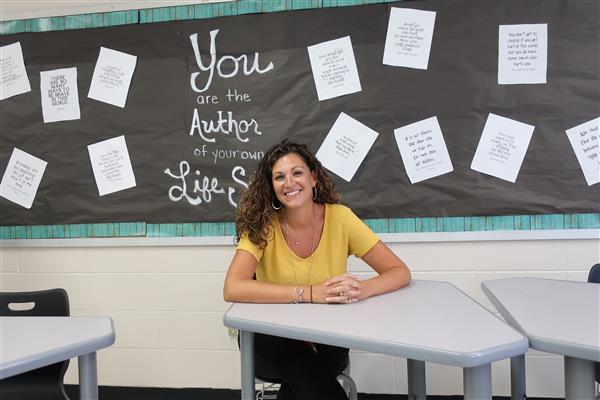 WTHS veteran teacher Shera Jahn admittedly is re-energized by classroom improvements.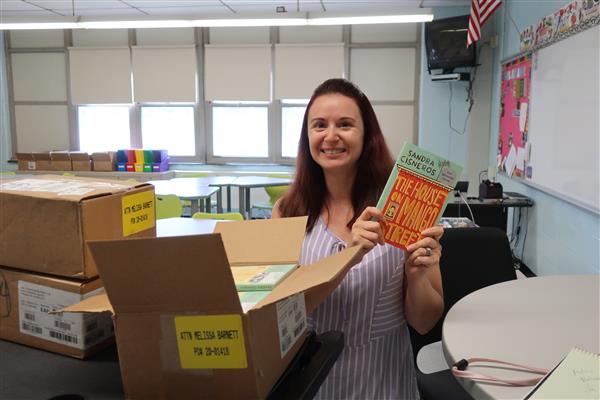 Teacher Melissa Natanni, shown with one of her new classroom library books, says the fresh, new space will allow her to move from being the "sage on the stage to the guide on the side."