Return to Headlines
Wedgwood Elementary School Fifth-Graders Earn Medals for Efforts in Volume Olympics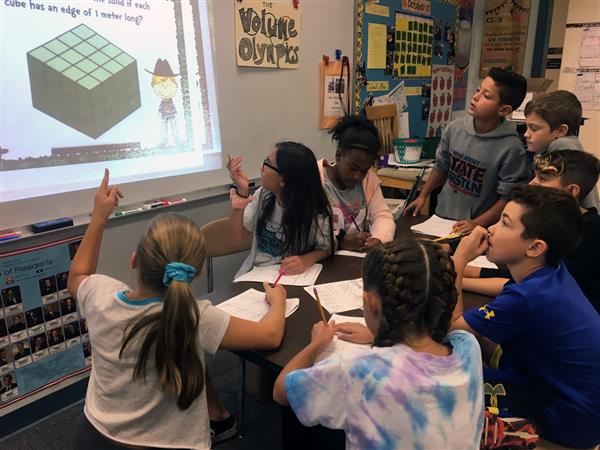 WASHINGTON TOWNSHIP – Wedgwood Elementary School students in Mrs. Donna McGough and Mr. Domenick Renzi's fifth-grade math classes recently took part in the Volume Olympics, where being cubed is cool. The students represented various countries as they worked as part of teams to complete various events that required them to apply their knowledge of volume.
One event required students to measure various items such as cereal, tissue and oatmeal boxes to find the volume. Another event involved building prisms using connecting cubes to equal a given volume. Students also worked as teams to complete various volume task cards that presented rigorous problems.
The awards ceremony included Philadelphia Soul players Keith Newell and James Romain, who helped present the medals to the winning teams.
Gold medal-winners included Michael DelRossi, Isaac Parra, Paige Sawyer and Sydney Caffrey; Silver medalists included Quinn Anderson, Gabby DeJesus, Juliana Becksted, Joel Chambers and Joey Oliveti; bronze medals went to Mason Hatton, Andrew Robinson, Layla Serrano-Morrow and Sophia Stazi.
Wedgwood fifth-graders show off their medals for their successful performance in the Volume Olympics. Pictured (left to right) are: Andrew Robinson, James Romain from the Philadelphia Soul, Mason Hatton, Michael DelRossi, Gabriella DeJesus, Quinn Anderson, Juliana Becksted, Isaac Parra and Keith Newell from the Soul.
- WTPS -