Return to Headlines
Michael Deleon Delivers Powerful Message on Drugs and Vaping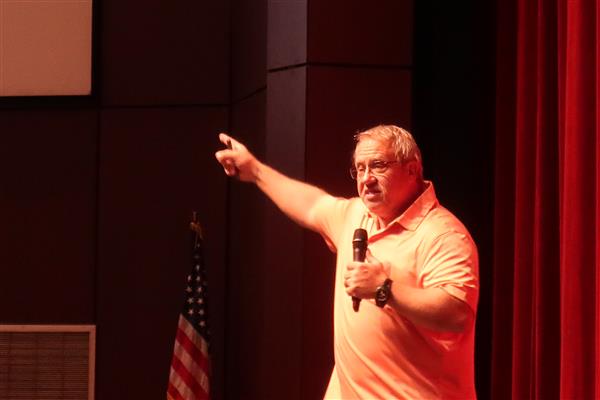 "I am here to make sure that my past doesn't become your future."
Recovered addict, former prisoner, award-winning documentary filmmaker and motivational speaker Michael DeLeon shared the details of his life - derailed by drugs, violence, gang activity and a 12-year incarceration - during a school-wide assembly at Washington Township High School on October 21st. DeLeon's appearance, funded by the Municipal Alliance, opened School Violence and Drug Awareness week in the District. He also made appearances at all three of the District's middle schools. A free evening assembly for parents is planned for October 21st from 6:30-8:30 p.m. in WTHS' Investors Bank Performing Arts Center.
"No one ever says they want to grow up to be a drug addict," DeLeon told the students, "but I am here to tell you that I ruined my childhood and high school years with drugs, and there are limitations on my life that affect me to this day because of the poor choices I made when I was your age. Those poor choices affected my health, my future and my family. I have had cancer twice. I am going to be an ex-con for the rest of my life. I am here to show you that poor choices have inevitable, often irreparable consequences."
DeLeon cautioned the group about minimalizing the impact of alcohol, nicotine and marijuana, and the growing incidents of vaping.
"I am here to tell you that downplaying the harmful effects of these things has been the greatest fraud perpetrated on your generation," he said. "Once you start down that path to addiction, you have a 20-percent chance of lifelong recovery. Kids are dying. I have attended 219 funerals since 2012 of young people who have died from drug-related causes. I have made this my life's mission to let you know that this is the most important time in your life, and the choices that you make now can not only change the direction of your life, they can end it."
DeLeon shared alarming statistics on the rise of deaths from respiratory related complications related to the rise in vaping, noting that one Juul pod is equivalent to the nicotine in four packs of cigarettes.
"I urge you to put it down," DeLeon said in pleading about the prevalence of vapes and the increase in vaping in this age group. "Don't put your life before this fad."
A successfully acclimated ex-offender, DeLeon spent 12 years in state prison and half-way houses for a gang-related homicide. This came after he endured nearly eight years of drug addiction and gang involvement. Since his release from prison, DeLeon has earned three associate degrees and a bachelor's degree in business management, with a minor in criminal justice. He currently is pursuing his master's degree in social work at Liberty University.
DeLeon has produced four award-winning documentaries, as well as numerous public service announcements and educational and instructional videos on addiction prevention and recovery. He has spoken to more than seven million students and young adults in more than 6,000 schools and facilities. In addition to his affiliations with numerous committee and coalitions, DeLeon has made presentations in every New Jersey county and hosts a weekly television show called "The Road to Recovery."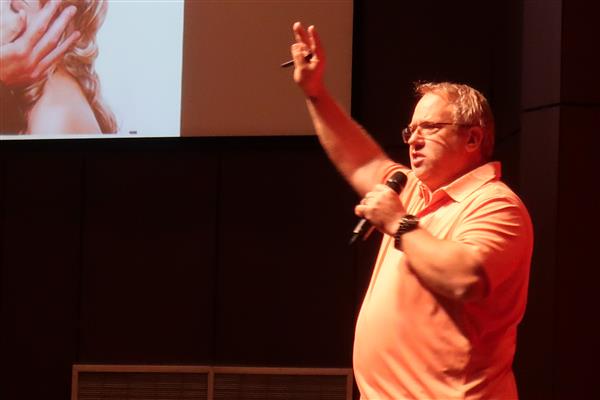 Acclaimed documentary producer and motivational speaker Michael DeLeon addressed WTHS students on October 21st about the dangers of alcohol, nicotine, marijuana and vaping. His visit to the high school, and all three District middle schools, was funded by the Municipal Alliance and opened School Violence and Drug Awareness week.