Return to Headlines
WTHS Welcomes 55 Freshmen as Inaugural Class into School's Five Career Academies
Click here to access a photo galley of the induction ceremony
Washington Township High School Career Academy and Practical Arts supervisor Steve Whalen came bearing gifts for 55 of the school's members of the Class of 2023 who have been accepted to and enrolled into the school's new Academy Program. Each of the freshman received a new branded lanyard and specially designed badge that will identify them as Academy students.
"Congratulations on your induction into the WTHS Career Academies," Whalen said in welcoming the group. "You are commended for taking your first step towards a career pathway that is high-skilled and projected to be in high-demand when you enter the work force. The educational experiences that lie ahead will provide you with knowledge, skills and experiences to help you advance in a very competitive world. Your commitment to a four-year continuum of learning is unprecedented at this school. We applaud you for focusing on your future now, so you can plan for a successful tomorrow."
WTHS launched five Career Academies at the start of the 2019-20 school year. The academies are designed to prepare students for specialized college and career programs by providing high-quality career and technical education (CTE) experiences in five specialized areas. These include:
Academy of Engineering and Innovation
Academy of Early Childhood Education
Academy of Business Administration & Finance
Marketing & Business Leadership Academy (M.B.L.A.)
Academy of Television Production and Broadcast Journalism
The academies will be organized on a four-year continuum of targeted career and technical education courses which, when combined with traditional core academic courses, will introduce students to the scope, rigor and discipline to better prepare for a program of study at a two- or four-year college or university.
"I have been dreaming about this day since I was a principal at this high school," Superintendent of Schools Joe Bollendorf said. "It is so gratifying to see this become a reality for this freshman class. As our inaugural class, you are blazing a new trail. You are getting in at the ground level. I encourage you to take advantages of all of the opportunities that will come your way as Academy students, and I congratulate you and all of our staff who were the backbone for making this happen."
Following the address, Whalen, and the teachers who will be leading the Academies, distributed special identification badges to the Academy students.
WTHS Career Academy teachers will include: Alex Ackley, Paula Barakat, Pat Chiaro, Kristen Dirato, Corinne Dowdell, Kyle Falzone, Rosalyn Gill, Josh Hanlon, Luisa Indriso, Shannon Molloy, Sara Simpson and Simone Wong.
The following students represent the inaugural class of the WTHS Academies:
Business Marketing and Marketing Management
Taylor Attanasi, Michael Coppola, Carly D'Angelo, Morgan Davis, Isabella Gentile, Burcin Kumas, Jocelyn Morrell, Evelyn Nicholson, Alyson Petro, Michelle Thomas, Dylan Trewin
Business Administration and Finance
Spencer Barnoski, James Brigandi, Lorenzo Campo, Anna Lee, Jessica Wei, Ethan Wilson
Early Childhood Education
Rayn Andrews, Kaleigh Blaney, Victoria Capone, Ava Graves, Jacqueline Reeves, Emily Wechter, Olivia Wisor
Engineering (STEM)
Joseph Agosta, Abigail Brown, Brandon De La Puente, Robert DuCoin, Christian Heil, Colin Keane, Ryan Kozej, John Martino, Ysabella Oli, PeterTzimoulis, Michael Valentino
Television Production and Broadcast Journalism
Laura Angstadt, Vincent Bariana, Sydney Cella, Lauren Dye, John Franklin, Claudia Godlewski, Santino Imperato, Dylan Makofka, Alyssa Marrero, Michael Mateo, Troy Nguyen, Kerri Orbach, Aemilia Orrio, Olivia Parker, Gregory Price, William Scarborough, William Schuck, Damian Sereni, Charles Smith, Addison Sondberg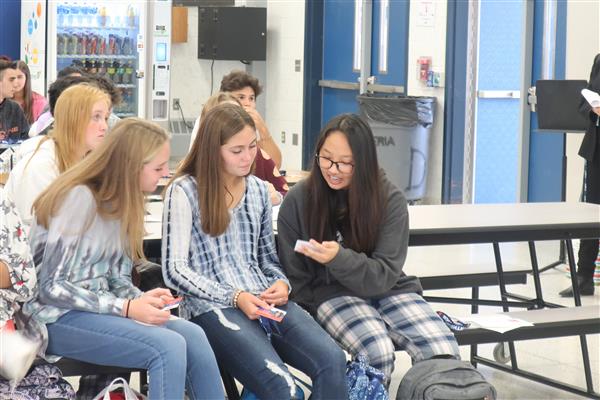 WTHS freshmen (from left) Emily Wechter, Olivia Wisor and Anna Lee check out their newly obtained badges that identify them as Career Academy students. This year's freshman class is the first to be welcomed into one of five career academies at the school.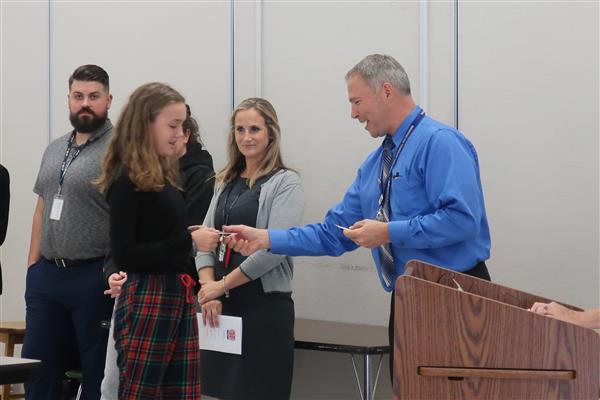 Career Academy Supervisor Steve Whalen welcomes freshman Rayn Andrews to the Early Childhood Education Career with her identification badge.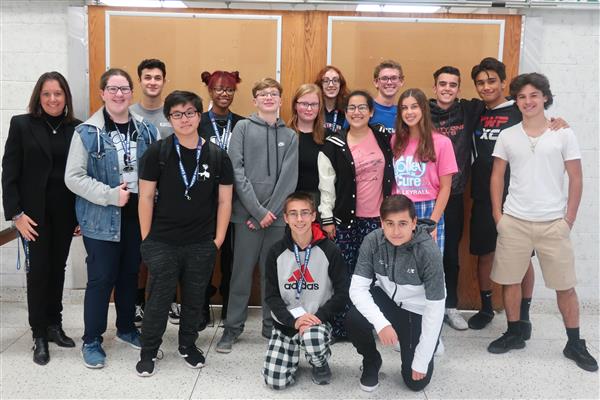 Fifteen of the 20 members of the new WTHS Television Production and Broadcast Journalism Career Academy posed with their teacher Kristen Dirato after receiving their new identification badges and lanyards.