Return to Headlines
WTHS Students Bring Junior Achievement Concepts to Elementary School Students
Sophomores Nick DePasquale and Lucas Urban were among 43 Washington Township High School students and a number of parent volunteers who descended upon Hurffville Elementary School on November 1st, engaging students at all grade levels with topics on business and marketing concepts, work readiness, and entrepreneurship as part of their participation in Junior Achievement (JA). The JA program, a global non-profit youth organization that was founded 100 years ago, has been in the District for 15 years.
Through JA, younger students learn about business and personal finance and review skills that are needed for employment and entrepreneurship. The program, coordinated by WTHS business education teacher Pat Chiaro, helps fulfill the District's financial literacy curriculum requirements and will be presented to the remaining District elementary and all three middle schools during the school year.
The November 1st kickoff was the first of three JA days in the District and represented a Junior Achievement of New Jersey investment of more than $20,000.
"JA reached approximately 1,500 students in 60 classrooms at Birches, Hurffville and Wedgwood," said Anthony Panto, a community member who works closely with the District in the JA delivery process. "We are grateful to each of the school organizers, who did an outstanding job recruiting parents and organizing the buildings. We extend a special thank you to Pat Chiaro, who prepares our outstanding High School Heroes. We had an overwhelmingly positive response to the quality of the curriculum and the performances of our high school students. We are so proud of this community partnership and the critical lessons that are delivered through it."
JA is a win-win for everyone involved.
"The high school students gain valuable experience in public speaking and a real appreciation for what it takes t be an effective teacher and to hold the attention of a classroom of students," WTHS teacher Rosalyn Gill said. "It gives them an opportunity to stretch out of their comfort zone. The younger students enjoy receiving interactive lessons from the high school students and parent volunteers, who expose to them to concepts about money, occupations, starting businesses, and the hiring process."
And even taxes, as a second-graders learned when they launched production of a donut shop using fake money and were asked to return some of it to pay their tax bill. That, indeed, was a realistic business simulation and a concept that even seven-year-olds soon grasped.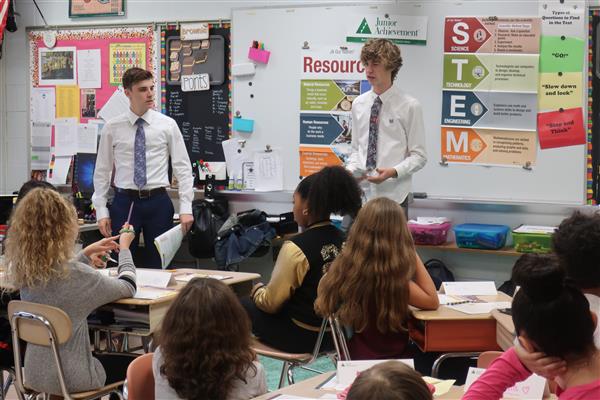 WTHS sophomores Lucas Urban (left) and Nick DePasquale ask questions of Hurffville fifth-graders during their November 1st visit with the Junior Achievement program.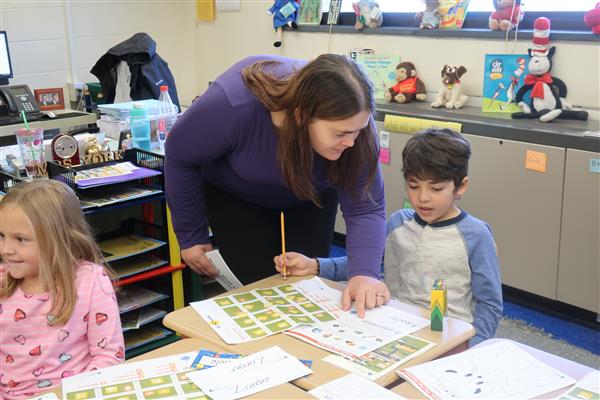 JA parent volunteer Judy Arbelo and her first-grade son, Zander, review a JA worksheet during a lesson on needs and wants and jobs in the community.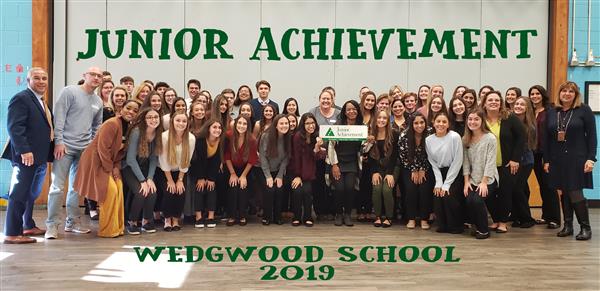 JA parent-volunteers and WTHS students pose for a group photo before their grade-level lessons on financial literacy.