Return to Headlines
"Snowman Soup for Soldiers" Proves to Be a Touching Fundraiser Activity for Hurffville Elementary First-Graders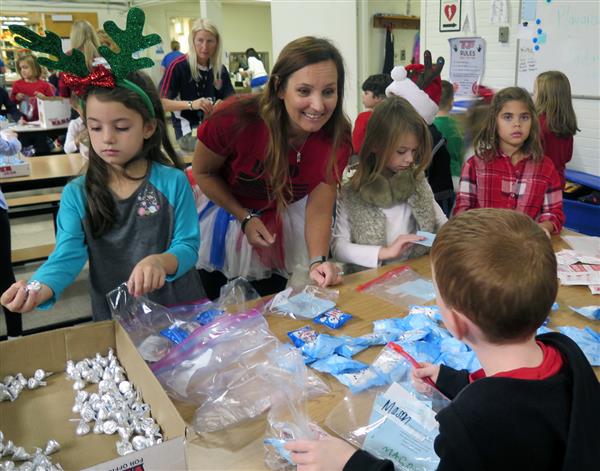 First-grade teacher Kathy Saia, who organized the program, helps students complete their Snowman Soup for Soldiers bags.
WASHINGTON TOWNSHIP – Smiles were on faces and happy voices filled the air at Hurffville Elementary School on Tuesday, November 5th, as the school's first-graders completed the culminating event to a fundraising activity that hit very close to home.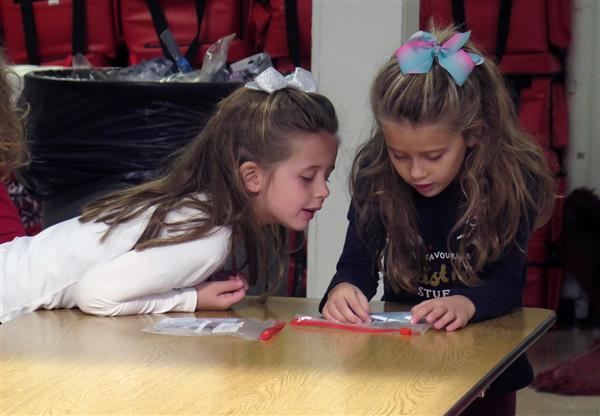 The Hurffville first-graders gathered in the school cafeteria, where they put together "Snowman Soup for Soldiers," which is a donation program run by Delaware-based "Stockings for Soldiers." The students took turns filling bags with candy canes, marshmallows, hot chocolate, Hershey's kisses, and the Snowman Soup poem. The bags will be sent to soldiers overseas who will not be home during the holiday season.
The fundraiser was created by first-grade teacher Kathy Saia, who can truly relate to the soldiers' plight. Saia's daughter, Kelsey Powell, is a medical officer with the U.S. Army and is deployed in Afghanistan, where she is the first contact for anything medical-related for the soldiers – everything from emergency medical transport, all the way to flu shot administration. Powell won't be home for the holidays.
"We were trying to think of a service project that would be perfect for first-graders to help our soldiers," Saia said. "Instead of just collecting things or money, we wanted the kids to actually be involved."
The hope was to collect enough items so that each of the school's 100 students could fill one bag. Thanks to the efforts of teachers and parents, enough supplies were collected to produce more than 1,300 individual bags of "soup." Monetary donations and extra supplies also will be donated to Stockings for Soldiers. Needless to say, the students were busy on Tuesday.
"We started collecting on October 15th, and at first it was a bit of a challenge," Saia said. "We couldn't find candy canes or the individual bags of marshmallows because it was too soon. The parents just kept reaching out. They went to Amazon. They went to Oriental Trading. They did all types of things to ensure we would get the supplies we needed. It's absolutely amazing and even a little overwhelming. The kids are super excited."
Below is the full "Snowman Soup" poem:
Snowman Soup
With freezing weather drawing near,
you'll need to warm the spirit.
So here's a little Snowman Soup,
Complete with stirring stick.
Add hot water, sip it slow,
It's sure to do the trick
Click here for more photos from the event.
- WTPS -