Return to Headlines
Washington Township Rotarians Present New Dictionaries to All District Third-Grade Students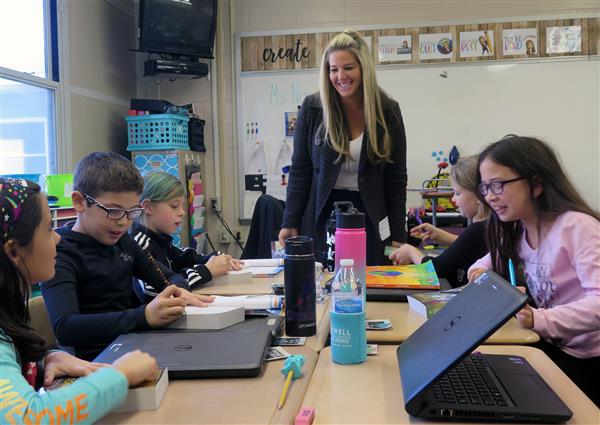 Rotarian and Board of Education member Tiffany Orihel smiles while chatting with Whitman Elementary School third-graders in Cathy Bennett's class after helping present them with their new dictionaries.
WASHINGTON TOWNSHIP – It's not quite the Christmas season just yet, but members of the Washington Township Rotary, including Superintendent of Schools Joe Bollendorf, had gifts to give to District third-graders on Wednesday, November 6th. Each of the third-grade students in Washington Township's six elementary schools were presented with a brand-new dictionary – 570 in all – continuing a tradition that has now encompassed the past 17 years.
Rotary representatives, including Vince Esposito, Sue Esposito, Dave Vicente, Laura Marzano, and Tiffany Orihel, visited third-grade classrooms across the District, much to the delight of the students who excitedly clutched the books and turned to page 373, at the urging of the superintendent, to look up the longest word in the English language – 1,909 letters in all.
The Rotary Club of Washington Township is an organization of business and professional persons, like Rotary International, who provide humanitarian service, encourage high ethical standards in all vocations and help build goodwill and peace in the world. Washington Township Rotary businesses purchased the dictionaries from the non-profit group, The Dictionary Project (www.dictionaryproject.org).
Click here for more photos from the event.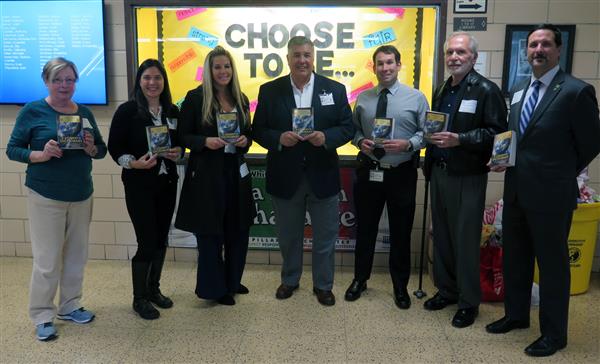 Washington Township Rotarians and District representatives pose for a photo with the new dictionaries presented to all third-graders on Wednesday, November 6th. Pictured include (left to right): Sue Esposito (Rotary), Laura Marzano (Rotary), Tiffany Orihel (Rotary, Board of Education member), Joe Bollendorf (Rotary, Superintendent of Schools), Ray Anderson (Whitman Elementary School Principal), Vince Esposito (Rotary), and Dave Vicente (Rotary).
- WTPS -