Return to Headlines
Cards Brighten Patients' Holiday
Orchard Valley Middle, Washington Township High School Students Create Thanksgiving Cards for Jefferson Patients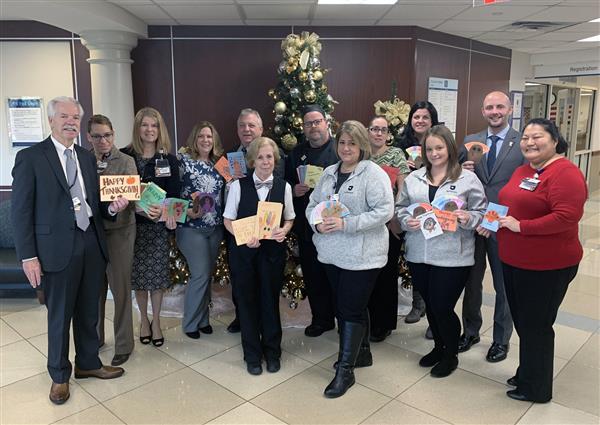 School district, CB Kids, and Jefferson Washington Township Hospital (JWTH) representatives pose with some of the cards created for patients. They include (left to right): Back row – John Graham, Chief Administrative Officer, JWTH; Dana Allen, EVS Patient Experience Manager, JWTH; Dianne Bottino, Administrative Director of Patient Experience, JWTH; Marcie Dewey, President, CB Kids; Michael Guerriero, Director of Food Services, JWTH; Samuel Knox, Food Services, JWTH; Linda Burke, Food Services, JWTH; Jen Smith, PTO Vice President, OVMS; and Nathaniel Arnold, Director of Operations, JWTH. Front row – Jean Young, Nutritional Care Assistant, JWTH; Michele Acevedo, Education & Fellowship Administrator, Graduate Medical Education, Jefferson Health New Jersey; Janice Petulla, Education Coordinator, Graduate Medical Education, Jefferson Health New Jersey; and Elisabeth Brent, Administration, JWTH.
WASHINGTON TOWNSHIP – Orchard Valley Middle School students, joined by peers from the National Honor Society at Washington Township High School and the nonprofit organization CB Kids, crafted dozens of Thanksgiving greeting cards for Jefferson Washington Township Hospital patients on Monday evening, November 25, 2019.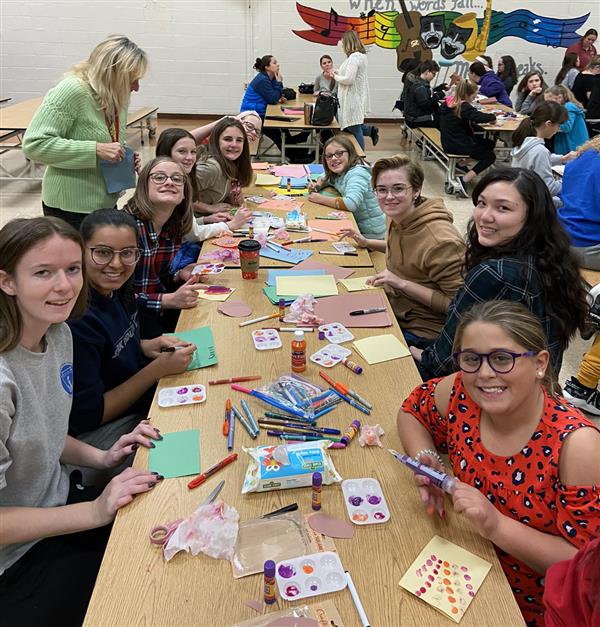 OVMS parent Marcie Dewey brought the service opportunity to the school, partnering with the OVMS PTO and then the WTHS students.
"These cards will bring smiles to our patients," said John Graham, Hospital Chief Administrative Officer. "We thank the students for helping to brighten their Thanksgiving, since they cannot be home with their families."
CB Kids introduces children to nonprofit groups with the goal of providing lasting memories of volunteering, which will hopefully inspire them to volunteer as adults.
The cards will be given out as part of meal trays at Jefferson
At left, OVMS students create cards for Jefferson patients in the school cafeteria on Monday, November 25th.
- WTPS -