Return to Headlines
WTHS Students Participate in Annual "DECA Idea Challenge"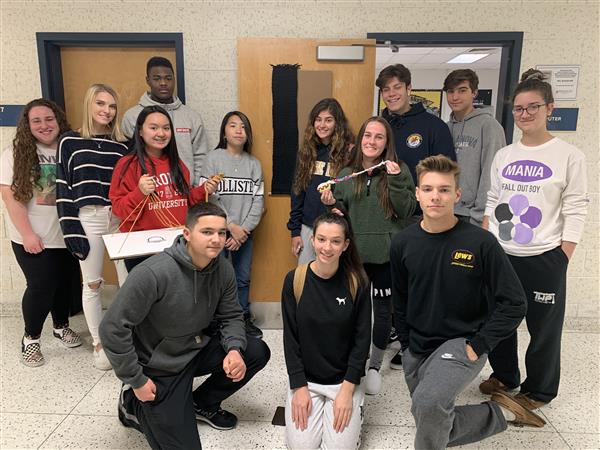 Ah, the limitless applications of a shoelace and the ingenuity of the teenage mind.
Washington Township High School students in Rosalyn Gill's classes recently participated in the annual "DECA Idea Challenge," coordinated in conjunction with Global Entrepreneurship Week (November 18-24). The "DECA Idea Challenge" is an international event where students learn of a mystery item on the first day of the competition – this year, the shoelace - and had the school week to brainstorm ideas to re-purpose the item and create a working prototype.
The WTHS students brainstormed and brought to life the "Space Lace," "Save-a-Lace," and "The Stress Lace," creative shoelace innovations designed to solve a problem and make the world a better place.
The "Space Lace" incorporated a small foam table that is intended to save floor place by being suspended from the ceiling by shoelaces. The creation could prove practical in small spaces, including college dormitories.
The "Save-a-Lace" provides extra protection on classroom doors by obstructing the view into classrooms in the event of an active shooter. Shoelaces woven and attached to classroom doors provide extra covering to reduce sight lines.
The "Stress Lace" is a shoelace-encased stress ball that could be used to calm anxiety and that could prove beneficial to students with attention deficit hyperactivity deficit disorder (*ADHD), among other uses.
As part of the challenge, the business students wrote a script and starred in a three-minute video infomercial.
"Completion of the project in five days required the students to rely on the production synergy of the group," Gill said. "It was a real collaborative effort. Students from Kristen Dirato's television production classes used their expertise to create outstanding marketing videos for all three projects, which are available on youtube. We are grateful to Ms. Dirato, her students and teacher Simone Wong for their input and assistance."
The URL links for the students' product commercials can be accessed here: Stress Lace https://youtu.be/tKq0PxIW6U0 , Save-a-Lace https://youtu.be/fUYBY9MU5aU, and the Space-Lace https://youtu.be/x2zOY2hJrb4 .