Return to Headlines
December Student-Athlete Honored
Washington Township High School Names Jack Dunn as December Student-Athlete of the Month Award Winner
WASHINGTON TOWNSHIP – Senior football player and wrestler Jack Dunn has been named the Washington Township High School Student-Athlete of the Month for December 2019. The WTHS Department of Athletics is proud to recognize a student-athlete each month during the 2019-20 school year who embodies selfless play and a commitment to their team while promoting team unity and positively influencing team culture both academically and athletically. WTHS's partnership with the Positive Coaching Alliance has helped to produce an athletic culture of "Honoring the Game," encouraging athletes to respect all aspects of their sport. The student-athlete of the month demonstrates this commitment.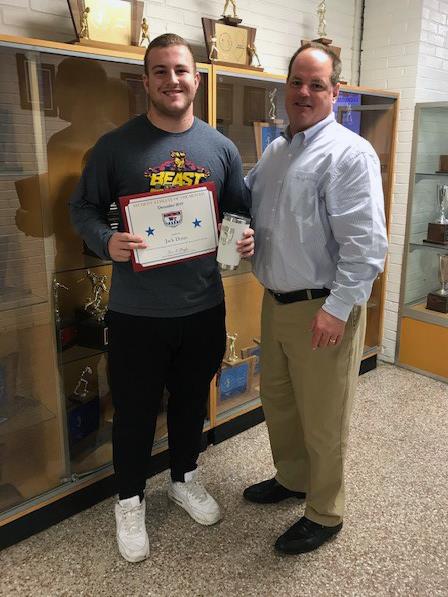 Dunn is a three-sport varsity student athlete (football, wrestling, track and field). On the gridiron in 2019, Jack helped lead the Minutemen to their second consecutive state tournament appearance. He was named first-team All-Conference (West Jersey Football League) and first-team All-South Jersey by the Brooks-Irvine Football Club and the South Jersey Touchdown Club.
Named a Brooks-Irvine Football Club Scholar-Athlete, as well as a member of the South Jersey Touchdown Club All-Academic Team, Dunn has a perfect 4.0 grade-point average with an SAT score of 1,490. He will continue his football career at Johns Hopkins University this fall.
A team captain in both football and wrestling, Dunn is a leader within the school community. His senior season on the wrestling mat is off to a solid start, as he competed in the prestigious Beast of the East tournament at the University of Delaware and helped the Minutemen capture the Blue Devil Duals championship at Hammonton High School.
"Jack has been the cornerstone to our program's development over the past two years," Minutemen football coach Mike Schatzman said. "His contributions to the football program extended past the football field to all areas of our community. It has been an honor to coach Jack and watch him define what is means to be a Minuteman."
"Jack is the model student-athlete and the most well-rounded student-athlete I have ever coached," WTHS wrestling coach Eric Ring said. "He is a pleasure to coach. He's tough, an extremely hard worker, and a great leader. Any coach would love a team full of Jack Dunns."
"Jack is everything we want our student-athletes to exemplify: commitment to team, hard-working, disciplined, passionate and caring," WTHS assistant principal and director of athletics Kevin Murphy said. "I am grateful of the example Jack sets every day for our student-athletes. He is humble in victory and gracious in defeat."
In the photo at left, December Student-Athlete of the Month Jack Dunn (left) receives his award from director of athletics Kevin Murphy.
- WTPS -