Return to Headlines
Visiting Neuroscientists Challenge WTHS Students with Question: "Why Not Science?"
Just because you may not personally know a scientist, doesn't mean you weren't born to be one. That was the message of two visiting neuroscientists from Thomas Jefferson University and Rutgers-Camden University on January 10th , addressing an assembly of Washington Township High School advanced placement (AP) and college prep psychology, AP biology, and AP anatomy and physiology students about science education and career opportunities. Dr. Nathan Fried and Dr. Brigid Jensen, who were accompanied by Thomas Jefferson University Executive Associate and Director of Finance Mr. Robert Bartosz, shared the complex and fascinating details of their current studies.
"Babies all are born naturally curious, so we are all born to be scientists," said Dr. Fried, a professor at Rutgers-Camden who currently has expanded his study on managing chronic pain to include research in optogenetic, which allows neurons in the brain to see light and "turn off pain." The research is being used to advance cures for blindness and hearing loss, among other ailments.
"I wanted a job where it was my job to learn new things," Dr. Fried added. "I wanted to be a lifelong learner, which is why I am in currently in grade 27. I don't know what I will be doing 10 years from now, but I can say that science has given me an interesting life. People think it takes hundreds of thousands of dollars over the five-to-seven-year period that it takes, to obtain a Ph.D. I can tell you the cost of a Ph.D. is negative-$33,000 a year because there is no tuition and you receive a stipend while you study. If you are interested, there are internships and opportunities at all levels of study to pursue this path."
Dr. Fried shared experiences from his research positions throughout the world with primates, lantern fish and sea turtles, and, of course, rats and mice, in studies of Alzheimer's disease and genetic manipulations and in scientific journalism with scientists and patients. He also discussed his background in the study of migraine pain, a complex neurological condition that is the third-most prevalent neurological condition on Earth, and the impact of opioids in managing this chronic pain.
Dr. Jensen shared the details of her work at the Thomas Jefferson Weinberg ALS Center, where she is a postdoctoral fellow working in a collaborative research setting on the causes of Amyotrophic Lateral Sclerosis (ALS - aka Lou Gehrig's Disease), a deadly motor neuron disease that affects 30,000 Americans annually.
"I am interested in the study of neurogenerative disease and what happens when things go wrong," Dr. Jensen said. "The goal of my work is to figure out therapies that will at least stall or, at best, cure ALS."
Dr. Jensen revealed exciting new advances that have come from recent research, including the
discovery of genetic mutations that cause cells to produce peptides that should not exist, and improved abilities to better model the effect of human behavior in labs using mice and rats, and in some cases, human cells."
"The brain is an incredibly complex organ," Dr. Fried said. "We know how single neurons work, but we are so far from understanding how neurons work together. If you are interested in science, I say 'give it a shot'."
"The work neuroscientists do is so important to our understanding of the brain and behavior," WTHS psychology teacher Krista Scardino-Welch said. "We are very lucky to be able to provide these types of presentations to our students where they are able to see how the psychology, biology, chemistry, physics and physiology we study in the textbook applies to everyday life and problems. We cannot thank Mr. Bartosz, Dr. Fried, Dr. Jensen, and Jefferson and Rutgers-Camden Universities enough for providing our students with such a wonderful opportunity."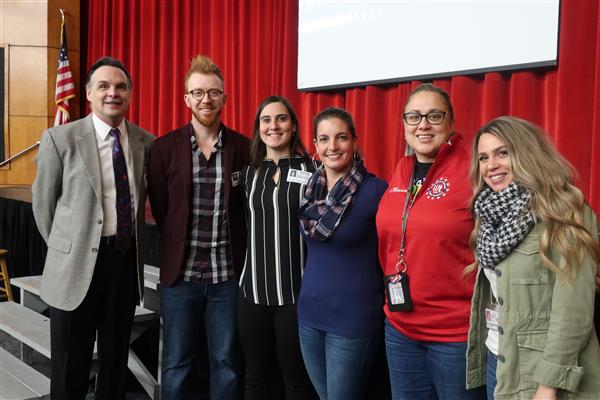 Thomas Jefferson University Executive Associate and Director of Finance Mr. Robert Bartosz, Dr. Nate Fried, Dr. Brigid Jensen, and WTHS psychology teachers Ms. Krista Scardino-Welch, Mrs. Jennifer Monaco and Mrs. Megan Foster pose before the start of the assembly.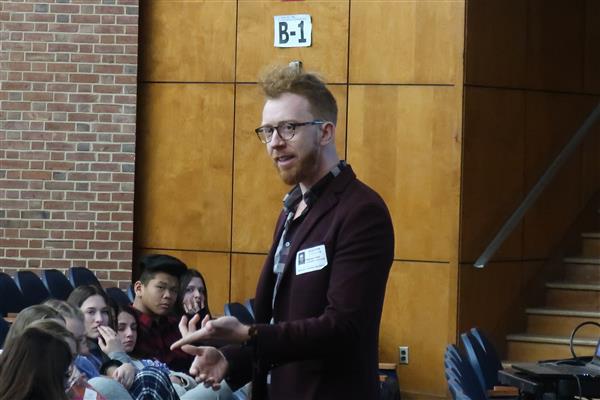 Rutgers-Camden professor Dr. Nate Fried encouraged WTHS students to "give science a shot."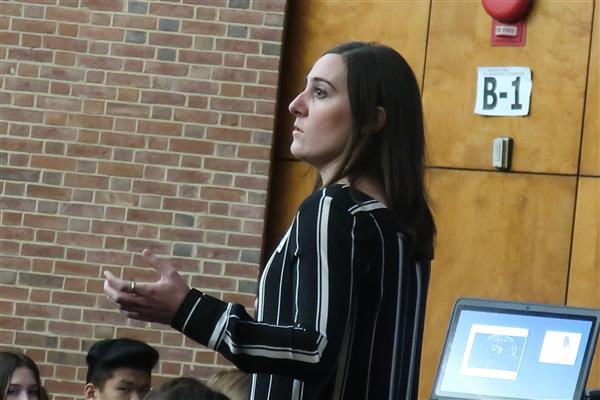 Dr. Brigid Jensen shared details of her cutting-edge research on the causes and progression of ALS (aka Lou Gehrig's disease).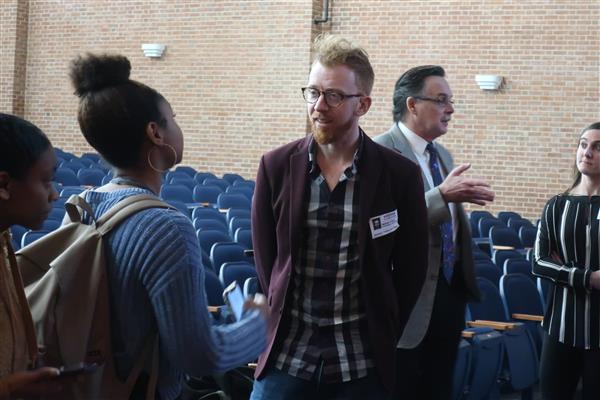 WTHS senior Gabrielle Green-Smith speaks with visiting neuroscientist Dr. Nate Fried following his presentation.