Return to Headlines
New Jersey Teacher of the Year to Visit Washington Township High School, Facilitate Roundtable Discussion
WASHINGTON TOWNSHIP – Washington Township High School will welcome 2019-20 New Jersey State Teacher of the Year Kimberly Dickstein Hughes to campus on Friday, January 17, 2020, starting at 11 a.m. During her visit, Mrs. Dickstein Hughes will be collaborating with Ms. Brittany Mason, a WTHS Social Studies teacher and the 2019-20 Gloucester County Teacher of the Year. Together, they will visit classes and then facilitate an after-school roundtable discussion on success stories in education with teachers and administrators at WTHS. This is the kickoff of Dickstein Hughes' state-wide work with the N.J. Department of Education as its teacher of the year. She is an English Language Arts at Haddonfield Memorial High School.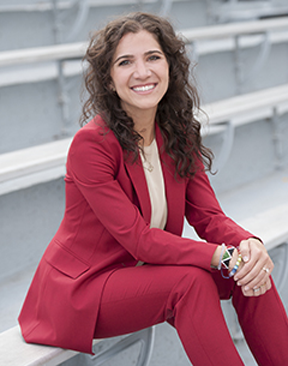 Dickstein Hughes believes that New Jersey can achieve equity in education only through compassion and action. Her platform as the 2019-20 New Jersey State Teacher of the Year is to lift every voice, for every stakeholder, from every district, in every county. Anything is possible, she says, and she believes in the enthusiasm and passion of her cohort – the 2019-2020 New Jersey County Teachers of the Year – to help her achieve this goal. Dickstein Hughes' service as the Haddonfield Education Association PRIDE Chairperson taught her the importance of sharing the successes of New Jersey's public schools while building community support and involvement. She understands that this award goes far beyond a title and appreciates the opportunity to serve and represent the 200,000 educators and 1.4 million students in New Jersey.
Dickstein Hughes grew up in Camden County and attended Voorhees Township Public Schools and the Eastern Camden County Regional School District. She earned her bachelor's degree in English and Political Science from Rutgers University in 2008 and a master's degree in English Secondary Education at Rutgers' Graduate School of Education in 2009. Dickstein Hughes has taught for 11 years in the Haddonfield School District. During her tenure, she has continued her professional development in Shakespeare studies at the Folger Shakespeare Library, Oxford University, the Oregon Shakespeare Festival, and the Utah Shakespeare Festival.
In June 2019, Dickstein Hughes was recognized as a Princeton University Distinguished Secondary School Teacher for her work as an educator and advocate. Camden County previously awarded her with the 2019 Martin Luther King Jr. Freedom Medal for selflessly contributing her time and effort to bettering her community. Dickstein Hughes' advocacy campaign with her students in 2018 helped Garang Buk Buk Piol, a former child soldier from South Sudan, achieve his educational goals and received local and national attention. South Jersey Magazine tapped her as a South Jersey SuperWoman, a local resident striving to make South Jersey a better place, in November 2017.
Dickstein Hughes takes great pride in her community. She has committed to creating awareness and improving the quality of life for hospitalized teens after the passing of her best friend in 2002, through the efforts of the Alicia Rose Victorious Foundation. She serves on the foundation's Community Advisory Board and advises the Youth Leadership Council. In 2017, the Victorious Foundation nominated Dickstein Hughes for the L'Oreal Woman of Worth Award program, which recognizes women making an extraordinary impact on their communities.
At Haddonfield High School, Dickstein Hughes advises Model United Nations, the Shakespeare Troupe, and Stand with Camden, all of which encourage scholarship and service. She has participated in Model United Nations since ninth grade, and she volunteered for the Institute for Domestic and International Affairs while at Rutgers University. Last year, her students competed on the national stage at the English Speaking Union's National Shakespeare Competition. Stand with Camden goes beyond the walls of the school by working with Urban Promise, Cathedral Kitchen, Book Smiles, Camden Rescue Mission, Kids Alley, and Camden Printworks. Students have embraced the spirit of volunteerism but also understand that social justice begins with listening to others and standing together.
Dickstein Hughes recently co-authored an article titled "Beyond the Book: Taking Global Action" with Dr. Crystal Chen Lee, teacher educator at North Carolina State University. They presented their work on critical global literacies alongside Garang Buk Buk Piol at the National Council of Teachers of English Annual Convention in November 2019. Dickstein Hughes, Lee and Buk firmly believe that social transformation can happen when students reflect on themselves in relation to their world.
- WTPS -