Return to Headlines
District Technology Integration Specialist Selected as One of 10 American Educators for Microsoft Education Exchange in Sydney, Australia
District Technology Integration Specialist Kathi Kersznowski finds herself in rare company after recently learning of her selection as of 10 American educators invited to participate in the 6th Annual Microsoft Education Exchange (E2) being hosted in Sydney, Australia from March 23-26, 2020.
The event will be used to showcase how the education system is taking proactive steps to provide technology access to students from the cities to the Outback. The E2 event brings together selected Microsoft Innovative Educator Experts (MIEE), of which Kersznowski is one, to immerse themselves in what many prior attendees have called a "life-changing experience." E2 inspires educators from around the world by offering them the chance to work through problems and collaborate on projects with peers who are equally enthusiastic and ambitious in their use of technology for learning.
While in Australia, Kersznowski will participate in hands-on workshops and discussions on key topics surrounding education transformation, with a focus on Microsoft technologies that will help transform the way education is done in schools across the world. She also will gain fresh insight into technology for teaching, learning and administration and explore global education strategies and best practices with other renowned educators from over 80 countries.
"Microsoft Innovative Educator Experts are a world-wide group of passionate, educator-visionaries who use technology to provide innovation and equity to students all over the world," said Katherine Carey, Director of Assessment, Data Technology, Registration and School Community Outreach. "While unbelievably prestigious and rare to be selected for the Education Exchange, it comes as no surprise that Kathi would be chosen to be among these top-flight peers. Washington Township is extremely proud that Kathi has strived to be on the forefront of educational technology and is being recognized and rewarded for her efforts with this once-in-a-lifetime collaboration. I can't wait for Kathi to share her learning, from what is sure to be a magical experience, with our teachers and students to further enhance the District's technology efforts and integration."
Kersznowski, a 1987 graduate of Washington Township High School, Kutztown and Rowan universities and a 20-year teaching veteran in the District, has presented at the International Society for Technology in Education (ISTE) for not only Microsoft, but also for edtech companies Skype, Flipgrid, Merge, Wakelet, Genially, and Empatico, collaborating with educators from the United States, Singapore, Malaysia, Scotland, Wales, Spain and Australia.
Her book, Sail the 7 Cs with Microsoft Education, which she co-authored with Becky Keene and that will be published and available in spring 2020, is a celebration of the creativity and innovative classroom happenings created with Microsoft products in every corner of the world. Through the framework of 7 C's (Community, Communication, Collaboration, Creation, Critical Thinking, Computational Thinking, and Changemakers), Kersznowski and Keene share some of their own stories and ideas, as well as insights from inspiring educators, hailing from more than 30 countries, who are creating powerful, impactful and replicable educational experiences by using Microsoft products and tools.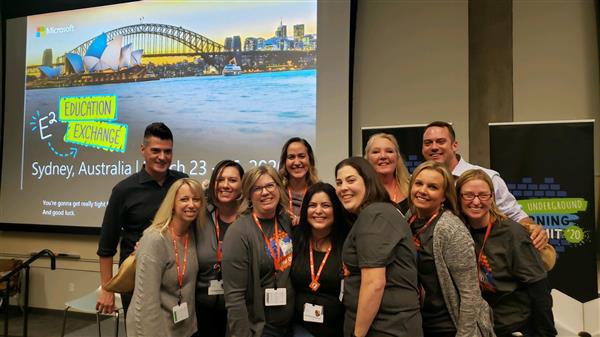 WTPS Technology Integration specialist Kathi Kersznowski (pictured back row, second from right), posed with nine other colleagues who will join Vice President of Microsoft Education Anthony Salcito (pictured far left) at the 6th Annual Microsoft Education Exchange (E2) being hosted in Sydney, Australia from March 23-26, 2020.