Return to Headlines
WTHS Students and Teachers to be Featured on Upcoming Episode of Fox 29's "The ClassH-Room"
Don't let the friendly banter fool you. The competition, between three Washington Township High School students and three WTHS teachers who recently faced off on Fox 29's "The ClassH-Room," was real. The show taped on Saturday, January 25, 2020, at the Fox Philadelphia studio. The actual air date of the program will be shared when it is confirmed.
"The ClassH-Room," hosted on Philadelphia's Fox television affiliate, is an area trivia-based game show that pits students (grades 7-12) against their teachers. The show, hosted by Richard Curtis, premiered in October 2018, and new episodes now air weeknights at 6:30 p.m.
Eighteen WTHS students and 12 teachers vied for a chance to be on the game show through a tryout hosted by the school's Student Council, emceed by principal Jonathan Strout and judged by a panel of staff. The winning students included: junior Steven Roth, junior Emma Schemelia and freshman Maggie Hunt. Junior Luca Franco earned the alternate spot. The teacher-participants included Rich Bostwick (health and physical education), Adjua LaFleur (science) and Zach Dzierzgowski (Spanish). Science teacher Costa Tsoukalis was named as an alternate.
"We are grateful for the opportunity to participate in such a fun game show that allowed us to showcase our amazing students and staff, both as participants and as part of the audience," said Strout, who was among audience members cheering on the competitors at the taping. "While I'm not at liberty to share the results, I assure you this show is one that you won't want to miss. Our WTHS contingent, which included our dedicated cheerleaders, decked out in blue and red TWP shirts and took over the Fox studio with energy from start to finish. We are grateful to our Student Council and their advisors, Brittany Mason and Shannon Molloy, for their efforts in creating a selection process and coordinating the entire event. It was no small task, but well worth the excitement that being a part of 'The ClassH-Room' has generated."
Should the students emerge victorious, their winnings will be put toward a water-filtration filling station on the second level of the school. If the teacher win, the money will be donated to the TWP Pantry.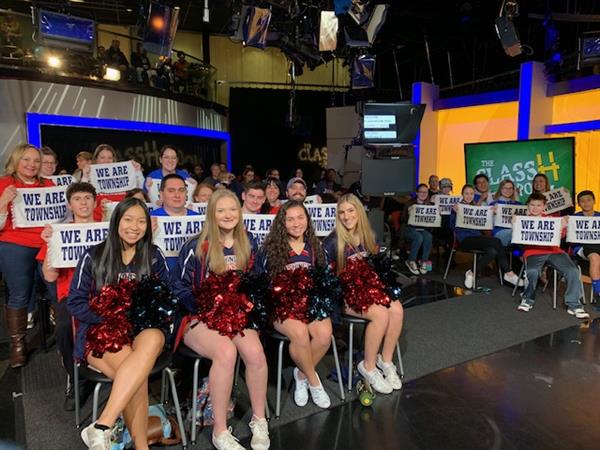 Audience members who supported the WTHS contestants at a recent taping of "The ClassH-Room" included the school's cheerleaders, principal Jonathan Strout (second row far right) and Student Council Advisors Shannon Molloy and Brittany Mason (third row, second and third from left).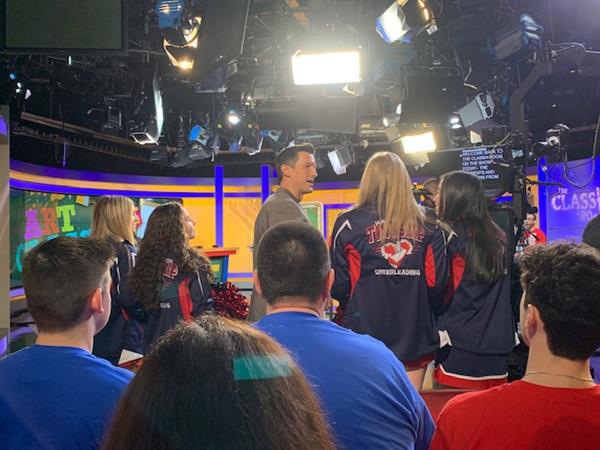 Host of "The ClassH-Room" Richard Curtis visited with WTHS representatives prior to the in-studio taping.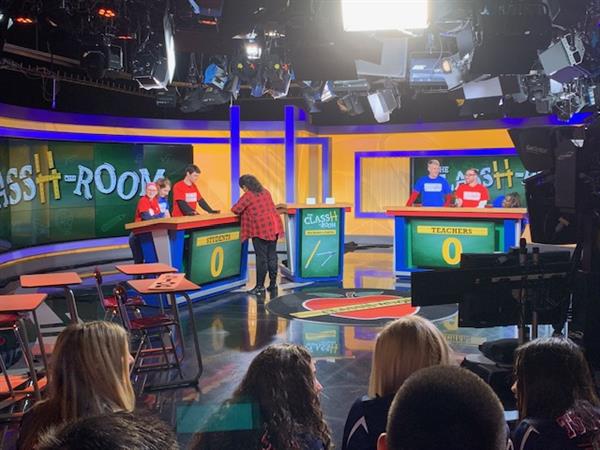 WTHS students and teachers were prepped on the stage prior to the filming of the game show.