Return to Headlines
Contestants Named for 8th Annual Washington Township Middle School Idol Competition
The eighth annual Washington Township Middle School Idol competition will be held on Friday, January 31, 2020 at 7 p.m. at Orchard Valley Middle School. Twenty-six contestants from Bunker Hill Middle School, Chestnut Ridge Middle School and Orchard Valley Middle School will compete for the title of 2020 WT Middle School Idol in the popular singing competition that is organized by teachers Alyssa Campanini, Amy Leso, Kelly Walz and Joe Zachowski. Cost of admission is $5.00.
Students auditioned in early January and will be judged by a new panel of local musicians and teachers.
Contestants vying for the title include:
Grade 6: Olivia McCullough, Reese Woshnak, Presley Terch, Brian Millar, Camryn Battista, Molly Crane, Madyn Coghlan, Neveah Smith-Fleetwood
Grade 7: Armani Johnson, James Conner, Annabelle Corigliano, Emma Wise, Anna Loomis, Rachel Quintavalle, Ashley Levin, MicKayla Foley-Sawi
Grade 8: Emily Sacco, Gianna Trapani, Arianna Nelli, Maddison Stein, Karley McMahon, Peyton McCuen, Jake Metviner, Tatiana Stewart, Olivia Nelson, Ava Fisher
The show is hosted by Washington Township High School Choir co-presidents Brielle Hina and Natalie Stillwagon. Nicole Forte, the 2019 WT Middle School Idol winner, also will perform. The winner of the 2020 competition will earn a solo performance at the WTHS Pops Concert, You Decide, on Thursday, February 13, 2020 at 7 p.m. in Washington Township High School's Investors Bank Performing Arts Center.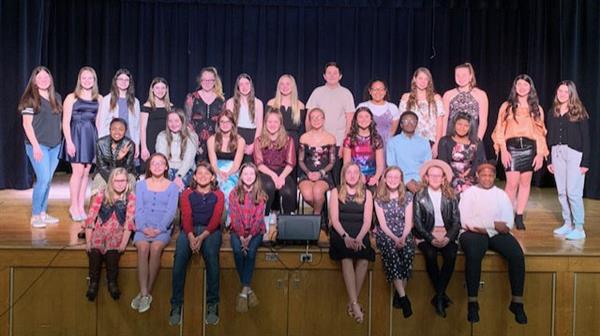 Contestants vying for the title of Washington Township Middle School Idol, that will be determined on January 31, 2020 during a competition hosted at 7 p.m. at Orchard valley Middle School, include:
Front Row: Olivia McCullough, Reese Woshnak, Presley Terch, Brian Millar, Camryn Battista, Molly Crane, Madyn Coghlan, Neveah Smith-Fleetwood
Middle Row: MicKayla Foley-Sawi, Ashley Levin, Rachel Quintavalle, Anna Loomis, Emma Wise, Annabelle Corigliano, James Conner, Armani Johnson
Back Row: Brielle Hina, Emily Sacco, Gianna Trapani, Arianna Nelli, Maddison Stein, Karley McMahon, Peyton McCuen, Jake Metviner, Tatiana Stewart, Olivia Nelson, Ava Fisher, Nicole Forte, Natalie Stillwagon