Return to Headlines
Wedgwood Elementary School Third-Graders Create Picture Graph to Illustrate Who They Think Will Win Super Bowl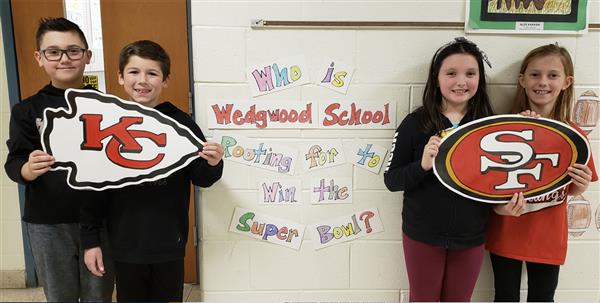 Wedgwood Elementary School third-graders (left to right) Ben Steinberg, Shane Miller, Peyton Garr and Kailyn Seymour pose near the picture graph board illustrating the school's preference in the Super Bowl.
WASHINGTON TOWNSHIP – Super Bowl Fever is spreading through Wedgwood Elementary School and into math class. Mrs. MaryGrace Parchesky's and Mr. Domenick Renzi's third-grade students used the Super Bowl as a way to bring scaled picture graphs to life.
The students started by surveying all staff members and students to see who they think will win the Super Bowl. While votes were being cast, the third-graders began coloring and cutting footballs to be used in the picture graph.
After all ballots were returned, the students used calculators to find the sum of the votes for both the San Francisco 49ers and the Kansas City Chiefs. The final tally revealed that 170 votes were cast for the San Francisco 49ers, and 360 votes were cast for the Kansas City Chiefs.
Then it was time to plan for the graph. "I think we better use one football to equal 10 votes," suggested Shane Miller.
The class agreed. and the graph key was all set. With one football representing 10 votes, 17 footballs were used to represent the 49ers' votes, while 36 footballs were needed for the Chiefs' votes. Selected members from the class assisted with the construction of the picture graph in the hallway for all to see, leaving no doubt that Wedgwood School is rooting for the Chiefs.
- WTPS -