Return to Headlines
Wedgwood Elementary School Third-Grader Aidan Albright Wins Just the Facts for Subtraction Tournament of Champions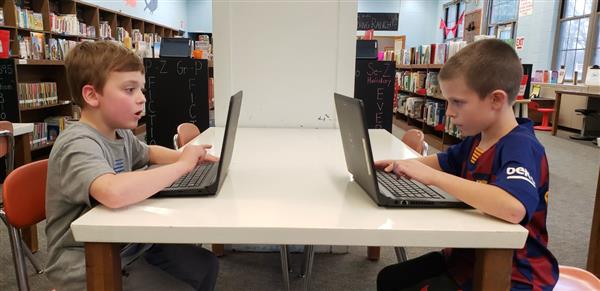 The finals of the Wedgwood Elementary School Third-Grade Just the Facts for Subtraction Tournament of Champions saw Aidan Alright (left) edge Tyler Anderson by just one point.
WASHINGTON TOWNSHIP – Wedgwood Elementary School third-graders were ready to show off their multiplication speed on Friday, February 7th, as 53 students entered the library ready to participate in a math tournament. The students arrived with their laptops to take part in the First in Math Just the Facts for Subtraction Third-Grade Tournament.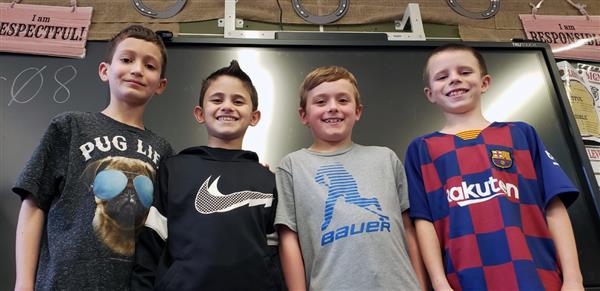 As students entered the library, they searched for their place around the room and prepared to log into First in Math, an online supplemental math program that uses a gaming approach to increase math interest and improve student performance. Once there, the students were ready to begin the 5-minute session of Just the Facts for Subtraction to see who would answer the most subtraction facts correctly in the shortest amount of time. Winning students advanced to the next round, ready to again demonstrate their fact fluency.
When all the differences were found, it was Aidan Albright, from Mrs. Melissa Rudolph's class, edging out Tyler Anderson, from Ms. Sherri Panichelli's class, to earn the championship. Albright scored a 99 to just beat out Anderson, who scored a 98. In the semifinal round, Anderson knocked off Santino D'Antonio, while Albright defeated Christian Iaconelli. Quarterfinalists included Anderson, Albright, D'Antonio, Iaconelli, Kevin Yankanich, Kailyn Seymour, Nathan Barnes and Vincent Nuzzo.
The tournament, organized by Wedgwood math teachers Domenick Renzi and Autumn Mattera, was a huge success, as students not only had fun, but also became more fluent in their subtraction facts.
Students participating in the Wedgwood School Just the Facts for Subtraction Third-Grade Tournament included: Aidan Albright, Nathan Barnes, Gabriella Cerulli, Nola DiPretoro, Dexter Farrington. Jared Franchi, Elizabeth Hunt, Jenna Lopresti, Zachary McEnroe, Vincent Nuzzo, Cainan Schoudt, Kylie Wendt, Gabrielle Wright, Kevin Yankanich, Alyanna Berido, Luca Botto, Gabe Coe, Jarret DiEgidio, Jackson Farrington, Reese Garr, Jacob Hurd, Bailey Jones, Emma Kopicko, Jayla Land, Arianna Laneader, Jorge Ochoa-Nelson, Devansh Purohit, Luke Scorza, Luke Taylor, Viviana Williams, Peyton Garr, Ryan Lawyer, George Rohanna, Kailyn Seymour, Landon Stone, Ahmad Aljaf, Tyler Anderson, Carson Bedford, Riley Brennan, Santino D'Antonio, Julianna Fattore, Christian Iaconelli, Aubrey Mack, Michael Mansell, Rose Micciche, Imanybelle Rodriguez, TJ Saris, Madelyn Stanley, Chase Taylor and Scarlette Zingoni.
In the photo above, the Final Four of the Just the Facts Tournament of Champions, which included third-graders (left to right) Santino D'Antonio, Christian Iaconelli, Aidan Albright and Tyler Anderson, gather for a photo.
- WTPS -