Return to Headlines
Through Washington Township's Junior Achievement Program, Anthony Panto Grows Generation of Dreamers
The school safeties at Thomas Jefferson Elementary provided a rock-star greeting to the bus load of visitors who walked into their building on January 17, 2020. The cheers and applause, usually reserved for celebrity guests and sports heroes, were directed to a contingent of Washington Township High School business education students, aka the "High School Heroes," who arrived with confidence, enthusiasm and interactive kits that would help them deliver fun, grade-appropriate lessons on money, banking, commerce, financial literacy and entrepreneurship through the Junior Achievement (JA) program.
JA, which turned 100 in December, has benefited generations of students worldwide by encouraging them to dream big about business-related career opportunities. Wealth management advisor and JA board member and volunteer Anthony Panto has made it his personal and passionate mission to grow the program in Washington Township.
"I started in 2005 with 23 students in a seventh-grade classroom at Chestnut Ridge Middle School," Panto said. "I had such an amazing experience that I just wanted to do more. Each year, the District's JA program got bigger and bigger, to the point where I knew that I needed some help. With the vision and assistance of Celeste Hardrick, who runs the JA program in South Jersey, and the collaboration of WTHS business education teachers Pat Chiaro, Shannon Molloy and Roz Gill, we developed this 'High School Heroes' program. The whole concept was to train the high school students to teach the JA lessons, so the high school students had an opportunity to learn things like discipline, public speaking and organization, and to meet other adults, parent volunteers from the community, who also are involved with the program."
"Welcoming Junior Achievement into my building is such a positive experience," Thomas Jefferson Elementary School principal Gary Breen said. "When those high school students and parent volunteers come in, there is a different, positive energy in the building. Learning financial literacy, even at this age, is crucial. Our kids get so much from the lessons on money and business. It's amazing to see how engaged they are."
Now 15 years in, Panto, with the support of District administration, has expanded the program so much that it touches 3,000 students, including all of the District's K-5 students and all eighth graders. JA's annual commitment to the District is approximately $100,000 annually.
"The kits that our high school students share out remain with the teachers for use and leverage throughout the school year," Panto said. "Since 2005, it is estimated that JA has contributed over $1 million to the Washington Township Public Schools through their partnership. For me, watching the program in action is my greatest joy. I light up when I see how excited these kids get when someone new walks into their classroom with a different type of learning opportunity."
Panto also is proud of the growing network of adult volunteers who have come into the program to work alongside the high school students, providing mentoring, college and career advice and even job shadowing.
"Having parent volunteers is incredibly important, and I hope that, as a community, we can increase that role," he said. "If our kids are our most important resource, our parent volunteers are pivotal because they have the life experience, outside of the traditional curriculum, that they can share. It's a lot harder to give of your time than to write a check. These volunteers are great points of light in our community who help our students to dream about all the possibilities that lie in front of them. They can play a pivotal role in inspiring our kids to success in not only what they become, but, more importantly, who they become.
"This volunteerism feeds my soul," Panto added. "I feel so grateful and blessed to be involved with JA and to be helping facilitate these connections. Hopefully, our kids will remember these experiences and will want to come back to Washington Township someday to build their businesses, their families and their lives."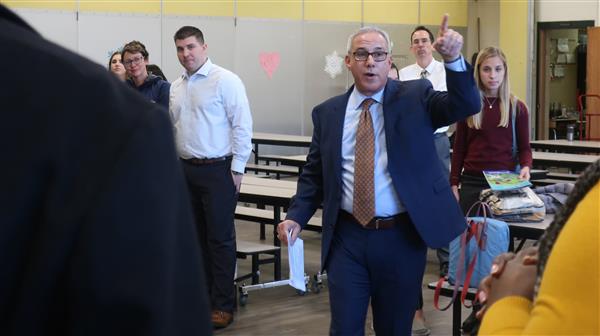 Junior Achievement Board Member Anthony Panto gives a pep talk to Washington Township business education students and adult volunteers before they dispersed into K-5 classrooms at Thomas Jefferson Elementary School for JA Day lessons.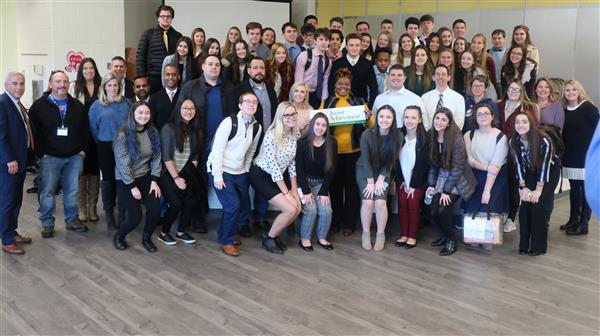 Washington Township High School business education students and adult volunteers posed for a group photo on January 17, 2020, one of several JA Days in the District.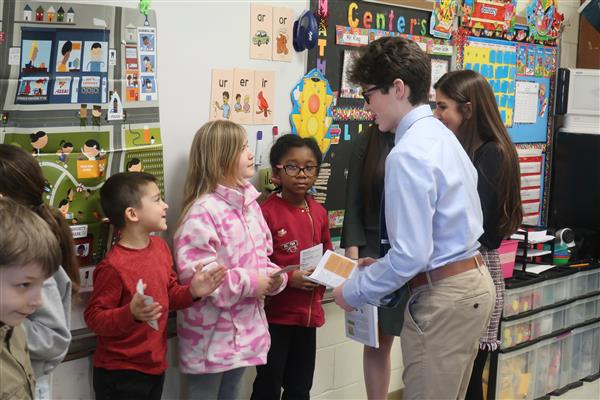 Washington Township High School sophomore Ethan Wilson conducts a lesson on money with Thomas Jefferson second-graders (left to right) Jessie Iaconelli, Jill Gunther and Estelle Herold.