Return to Headlines
OVMS Honors 33 Students as People's Choice Award-Winners
Thirty-three Orchard Valley Middle School students were honored as the school's People's Choice Award Winners during a ceremony on February 20, 2020. All of the sixth, seventh and eighth-grade honorees were selected by staff members for a variety of reasons ranging from kindness to others, to work ethic in classes, to having a positive influence in school.
OVMS principal Colleen Cancila opened the program by welcoming the students and their families and sharing her thoughts about the life messages found in her favorite movie, "Finding Dory," encouraging the students to "just keep swimming" as they move through the easy and tough times in the years ahead.
Every OVMS staff member was invited to honor any student of their choosing and was asked to read their personal nomination letter to the selected honoree. The letters shared personal experiences with the students, highlighted accomplishments and complimented the students for the qualities that make each special. Each honoree was presented with a certificate of achievement and a copy of the letter to keep.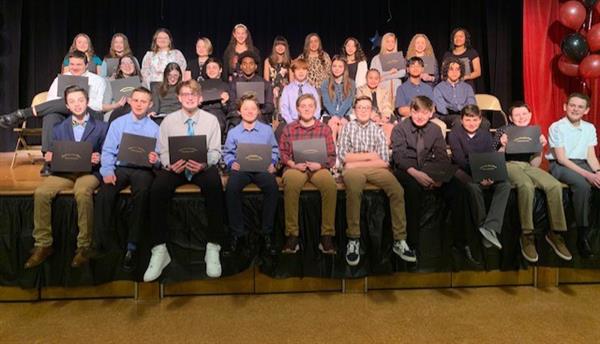 The 33 Orchard Valley Middle School People's Choice Award Winners included: Front Row: (left to right) Mitchell Savitsky, Aiden Woodward, Michael Casella, Anthony Branno, Evan Bongard, Dylan Bruderek, Jonah Avis, Matthew Weisensee, Owen Smith, Andrew D'Ostilio; Middle Row: (left to right) Benjamin Hough, Emily Westenberger, Mia Pointon, Kyle Clark, Samear Goffney, Garhett Hardy, Madison Ferris, Kirsten Fischer-Carr, Khang Nguyen, Jason Terry; Back Row: (left to right) Jeanine Specht, Cecilia Pace, Makayla McKie, Cassidy Branno, Brianna Maier, Haley Vitale, Nicolena Russino, Ava Bianchi, Virginia Pirolli, Natalie Phillips, Jianna Cora; (missing from photo: Gregory Taylor II, Mohamed Said)
OVMS German teacher Larry Burke honors Khang Nguyen with his award.
OVMS special education teacher Kathleen Gillespie speaks about why she chose Kyle Clark for recognition.