Return to Headlines
BHMS 6th Grader Brings Sew Much Pride to Family, School and Community through Homemade Masks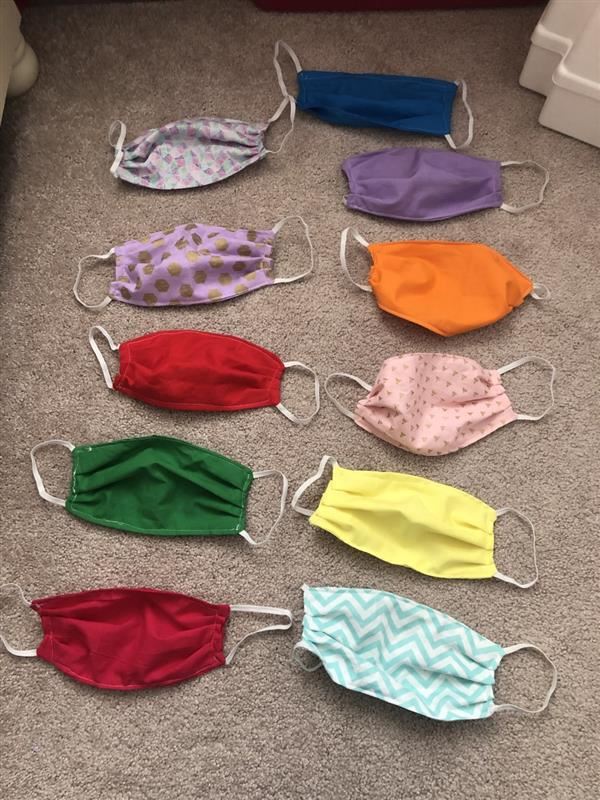 It is admittedly difficult for Natalie and Jim Beury to conceal their pride in their daughter, Samantha, a sixth grader at Bunker Hill Middle School in the Washington Township Public Schools. Their pride is understandable and justifiable, but if they opted to hide it, they could make use of one of the surgical masks that Samantha has crafted over the last week in response to the coronavirus outbreak.
A few years back, after learning to sew by hand, Samantha asked for and was gifted a sewing machine for Christmas and enrolled in a sewing class. Home from school because of closures forced by the pandemic, and in between remote learning sessions, Samantha asked her mother for suggestions on what she could sew during her free time while she was quarantined at home.
"A few days later, she mentioned that the hospitals and medical facilities were short on medical masks," Samantha said, "so I looked up a tutorial and started following the directions on how to make the masks."
Using fabrics and elastic that she had on hand from other sewing projects, Samantha began her community service project, working solo as she is the only one of the Beurys who knows how to use the sewing machine. It takes her about 20 minutes per mask, and since Sunday, March 22, 2020, she already has completed 12 masks.
"My mom posted a picture of my dad wearing one of my masks the other day, and I received a big response from her post," Samantha said. "Many of my mom and dad's family and friends told me what a great gesture this is, and it made feel happy, so I was motivated to make more. A friend picked up some of the finished masks on Tuesday evening, and took them with her to a Voorhees Pediatric Facility. It doesn't take a lot of time out of your day to help others in need."
"We are super proud of Samantha and her generosity to help others during this difficult time," Natalie Beury said. "She loves to sew, and her time and dedication to this project will go a long way to help our community during this time of need."
"Sam is a quiet leader in our school," BHMS principal Mike D'Ostilio said. "She leads by her actions and her work ethic. I had no idea Sam had a passion for sewing, but I'm not surprised she's using her passion and talents for a good cause. That's the kind of person she is. She never brags or boasts about anything. She does these things out of the goodness of her heart and her desire to help. It's great to see her getting recognized for these efforts."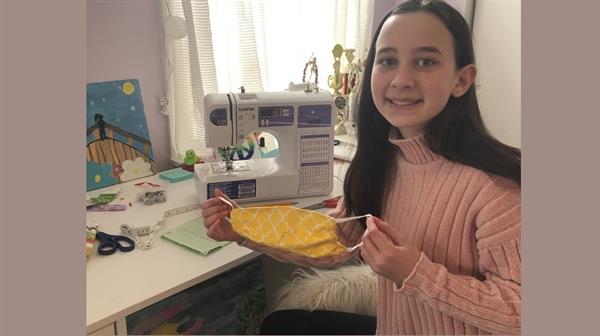 Bunker Hill Middle School sixth-grade student Samantha Beury displays one of the surgical masks that she has crafted on her sewing machine while quarantined at home.