Return to Headlines
First in Math ... First Place
Wedgwood Elementary Places First in State in First in Math; Second-Grader Lydia Krueger Leads Schoolwide Top Five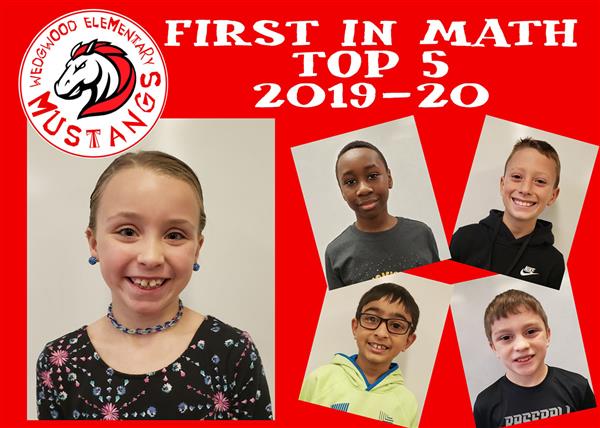 The Wedgwood School 2019-20 First in Math Top 5 include (clockwise from left): Lydia Krueger (first place), Chimaobi Nwosu (second), Vincent Nuzzo (third), Zach Clark (fifth), and Devansh Purohit (fourth).
WASHINGTON TOWNSHIP – Wedgwood Elementary School has completed its most successful year yet using the First in Math online program. As a school, the students combined for well over 7 million math problems solved. Wedgwood students also placed first in the state of New Jersey in the prestigious "Top 500 Students" category.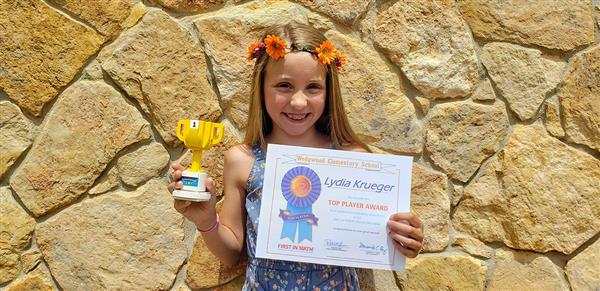 Sixty-two fearless mathematicians earned more than 10,000 stickers to become Grand Champions. These students were inducted into the Wedgwood School 2019-20 First in Math Wall of Fame. They include: Brianna Rainey, Mason Hatton, Tyler Anderson, Hannah Chen, Vincent Nuzzo, Andrew Bauer, Aidan Albright, Ryan Lawyer, Devansh Purohit, Lydia Krueger, Chimaobi Nwosu, John Waysome, Khloe Leacott, Justin Olson, Nicholas DiPretoro, Kevin Yankanich, Rose Micciche, Luke Ridgeway, Alec Aguila, Eleanor Lawyer, Alaina Aversa, Scarlette Zingoni, Dylan Kane, Andrei Penaverde, Ava Lentz, William Chelnik, Michael DelRossi, Mia Taxis, Kailyn Seymour, Adonella Dempsey, Nico Kenelia, Justin Taylor, Zach Clark, Max Van de Zilver, McKinley Edwards, Alycia Dymond, Joey Redman, Brooke Spera, Andrew Nelson, Michael Ilagan, Jacob Franchi, Jake Bauer, Justin Karasik, Tori Still, Oliva DeFulgentis, Kori Leacott, Kendall Spera, Angelina Roach, Giuliana Roach, Joey Watson, Colin Flannery, Sophia Watson, Lucas Gould, Ali Iaconelli, Addison Martin, Hannah Krueger, Tanner Burns, Reagan Burns, Katie Wichert, Kevin O'Donnell, Emily Sigmund, and Nolan Rollins.
As the school year came to an end, all eyes were on which students would finish in the top five. Lydia Krueger, a second-grader from Mrs. Kristin Seymour's class, finished in first place, earning more than 21,000 stickers – the equivalent of more than 60,000 math problems solved. Chimaobi Nwosu (grade 5, Mrs. Emily Ehret's class) finished second; Vincent Nuzzo (grade 3, Mrs. Melissa Rudolph's class) was third; Devansh Purohit (grade 3, Mrs. Kelly Abbruzzese's class) was fourth; and Zach Clark (grade 5, Mrs. Donna McGough's class) was fifth.
First in Math is used by District students in Grades 1-5 and will be available for use by students until July 31st.
Check out the Wedgwood School 2019-20 First in Math Wall of Fame video at this link.
- WTPS -