Return to Headlines
WTHS Class of 2020 Embraced, Celebrated and Sent-Off with Optimism During Virtual Graduation Celebration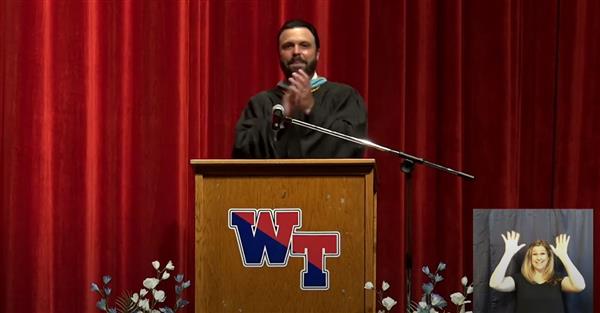 For a class of graduating seniors, who were born in the wake of the tragic events of September 11th and departed high school in the wake of a COVID-19 worldwide pandemic, there was much to be saddened about. But the Washington Township High School administration, District staff, Board of Education members and the community at large wrapped their arms around the Class of 2020 in a virtual embrace that could be felt throughout the taped commencement ceremony on June 18, 2020. Some 534 graduates crossed the stage to receive their high school diplomas as the school's 55th graduating class. The ceremony included speeches by co-valedictorians and twin brothers Colin and Tristan Ly, as well as fellow summa cum laude graduate David Forcinito. Superintendent of Schools Joe Bollendorf, Board of Education President Julie Kozempel and WTHS principal Jonathan Strout also addressed the Class. The ceremony was enhanced by music performed by the high school chorus and video remembrances throughout the production that showcased the resiliency, strength and unity of the group.
Optimism opened the speeches as Colin Ly urged his classmates to "Go forth and flower the world with the power vested in you." Brother, Tristan, encouraged them to "Find your happiness and never let it go," and Forcninto directed his fellow seniors to "Make each day count. Because of the uncertainty of tomorrow, I encourage you to live life to the fullest."
"It goes without saying that you are a unique Class," Superintendent Bollendorf said in addressing the graduates. "You have been through so much and have handled it with grace and understanding and elegance. Through the process, you have learned exceptional patience and the ability to multitask. You have had a unique opportunity to learn something valuable, and that is that life is sometimes out of our control. It's how we react to these things- that we are not expecting- that ultimately define us as human beings. You have had an incredible opportunity to learn something at a young age that many folks don't get to learn until later in life. I think that will help propel you forward."
"You may not be having the graduation experience that you wanted to have this year because of a pandemic, and you may not be in the right mindset for this milestone because of what is happening around you in this country," said BOE president and 1995 WTHS alumna Kozempel, "but please take a moment to appreciate your accomplishments and the person that you are right now. You will always have Washington Township to come home to. This year has been traumatic and special at the same time, and you are stronger for having gone through this."
"Even with the heavy sadness that you are undoubtedly feeling for all that could and should have been during your senior year," Strout said, "there will never be another class as memorable as the Class of 2020. Continue to shine your bright light. It is your light that can bring about the positive change our world so desperately needs. Be generous and share your gifts, not necessarily the knowledge you acquired in your brain, but rather, the compassion and empathy you offer from your heart."
A photo gallery of images from the virtual graduation follows.