Return to Headlines
Dr. Kara Ieva Leads District In-Service on Social Emotional Learning (SEL) to Open School Year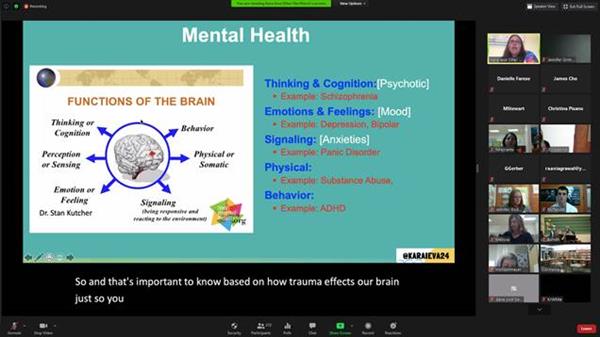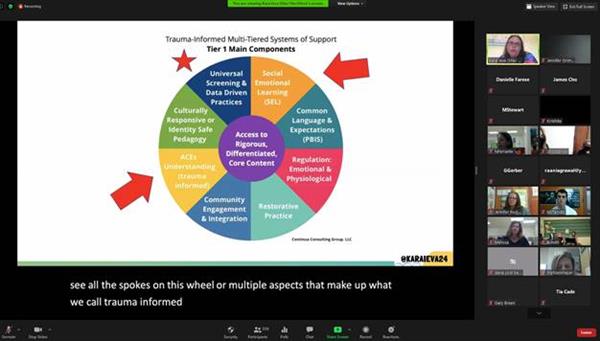 Dr. Kara Ieva, Associate Professor at Rowan University, opened the school year for Washington Township educators on September 2, 2020, by sharing a presentation on Social Emotional Learning (SEL). Dr Ieva led elementary and secondary staff - including teachers, counselors, nurses, child study team members, aides and secretaries - in discussions about creating a mental health and neuro-diverse inclusive culture to promote SEL.
Dr. Ieva has been working with District Director of School Counseling Jennifer Grimaldi for three years in the area of school counseling and has expanded her work with the District's Building Better People Team, whose work focuses on school climate and culture.
Additional topics that Dr. Ieva touched upon in her professional development sessions included: Adverse Childhood Experiences; Mental Health Awareness & Trauma; Student and Adult Responses to 2020 and Social Emotional Wellness; Educator Self-Care; Overview Trauma Informed & Healing Engagement; Importance of Brain Breaks; SEL Competencies; Building Rapport and Relationships with Students to increase SEL; and School-Level Racial Application in Classrooms with Resources.
Dr. Kara Ieva Bio:
Dr. Kara Ieva is currently an Associate Professor in the Counseling in Educational Settings program at Rowan University. Her educational career spans over 20 years as a former Spanish teacher and professional school counselor. She received her Bachelor of Arts degree in Spanish Secondary Education and Master's of Education in Secondary Education Curriculum and Administration from Towson University. Additionally, she earned her Master's of Education in School Counseling from Loyola College in Maryland and her PhD in Counselor Education for the University of Central Florida. Kara's areas of research interest include promoting equity and wellness in education for children and adolescents of marginalized populations: in the areas of college and career readiness, social/emotional development, and group counseling. She provides professional development to K-12 school counselors, teachers, and administrators on how to embed social/emotional development into curricula and strategies for cultivating a safe and welcoming mental health and neuro-diverse culture in schools.