Return to Headlines
WTHS Athletic Director Kevin Murphy to be Among Featured Panelists on Latest Edition of "NJ Press Pass"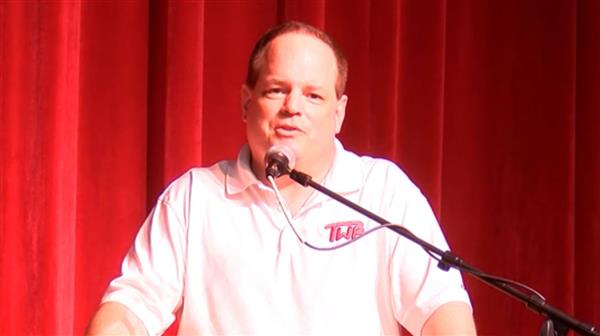 Washington Township High School athletic director Kevin Murphy will be among featured panelists on the latest edition of "NJ Press Pass" on Thursday, September 10, 2020, at 2 p.m. The live show, which debuted last month and is hosted by Courier Post reporter Carly Romalino, discusses local and statewide issues – everything from COVID and returning to schools to elections, local economy and other state initiatives. The September 10th edition will focus on returning to sports.
Murphy will join panelists John Lewis (USA Today network sports contributor and Burlington County Times sportswriter) and Joanne Bullard (Rowan University health and exercise professor), who recently completed a study of 682 NCAA Division III New Jersey Athletic Conference (NJAC) athletes that measured how the pandemic has impacted student-athletes emotionally and mentally since March.
The show also will feature comments from NJAC Commissioner Terry Small, and Colleen Maguire, who leads the New Jersey State Interscholastic Athletic Association (NJSIAA).
"NJ Press Pass" broadcasts live to the Facebook pages and Twitter accounts of the Courier Post, Daily Journal, and Burlington County Times newspapers, the NJ Press Pass Web Series Group, and the YouTube channels for the Courier Post and Asbury Park Press, as well as on NorthJersey.com. The show streams through Streamyard, a browser-based platform.
The first edition of "NJ Press Pass," which focused on COVID and Classrooms, aired August 21st and has been viewed more than 15,000 times. To view the first broadcast, please click on the link below.
https://www.facebook.com/courierpost/videos/666049567363785
To join the community Facebook Group for the show, please access the link below.
https://www.facebook.com/groups/njpresspassgroup
In May, Murphy was named to the NJSIAA COVID-19 Sports Advisory Task Force, joining a group of athletic directors from across the state who reviewed a wide range of sports-specific proposals and recommendations, with a focus in implementing, executing and enforcing potential modifications beginning with the Fall sports season.