Return to Headlines
Always a Writer, Bells Elementary Teacher Nick Bozza Releases Children's Book Based on Relationship with His Parents
WASHINGTON TOWNSHIP – Nick Bozza considers writing his passion. The fourth-grade teacher at Bells Elementary School has been spilling his thoughts in journals since high school. He's experimented with manuscripts for years. But Bozza's words usually never left the pages of his notebooks or the storage of his computer drives.
"It was always just an escape for me," said Bozza, a 32-year veteran of the classroom.
That was until early in 2020, when he asked his wife, Eileen, to read through a children's book that he had finished. Eileen thought this was worth more than just a few bytes on a flash drive.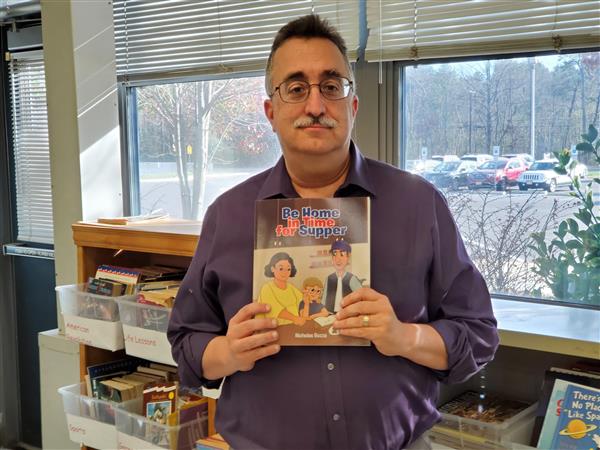 "I loved it. It was a simple story, but I knew exactly where it was coming from," said Eileen Bozza, a computers teacher at Hurffville Elementary School. "I told him, 'You should send this to a publisher.'"
"My wife can be a little on the persuasive side," Nick said. "So, I sent it off."
Just a few days later, Fulton Books called Nick with the big news: they wanted to publish Bozza's Be Home in Time for Supper, with a goal of a Thanksgiving release.
"I was stunned," Nick said. "I hung up the phone, and Eileen thought something happened to someone in my family. I was like, 'They're going to publish my book.' I thought maybe they read the wrong manuscript and were calling me by accident. I was completely stunned. Thrilled, but stunned."
The Bozzas kept the news mostly to themselves through the editing phases. In the wee hours of the morning on Thursday, November 19th, Eileen let the cat out of the bag with a Facebook post, linking to the book's Amazon.com release. It led to a very different arrival at work for Nick.
"I got there and (Principal) Ginny Grier and (elementary supervisor) Beth Neiderman greeted me and were like, 'I hear there is something you've been keeping from us,'" Bozza said. "They said, 'We expect a series now.'"
Be Home in Time for Supper is, in Nick Bozza's own words, "a very simple book about a boy who loves his parents." It describes the importance of the small moments in life, like taking a walk with dad to see trains, or mom helping you with your homework. It was inspired by Bozza's childhood and his relationship with his late parents, Carmen and Jean – affectionately known as Nutch and Ma B.
"Nick was a very devoted son. He's very big about his family," Eileen Bozza said, noting that Nick has approximately 500 cousins who get together once or twice per year for reunions – organized by Nick – during non-Covid times. "The book was loosely based on his childhood. It's what his parents were like to him. Having this book published, it means a lot to Nick because of that connection."
Nick Bozza said when he started writing the story, it wasn't intended to be a children's book. He thought it was going to be a small piece of a larger manuscript.
"Then I was just like, 'This works by itself,'" he said. "I mean, I've been a teacher for 32 years, so I guess that lends itself to being around children's books."
Fulton Books agreed. And now, Nick Bozza is a published children's book author with, he hopes, more to come along those lines.
"I would love to keep putting out books. Absolutely," Nick Bozza said. "I have a couple other manuscripts that I haven't done much with. Now maybe I'll have the push to finish those."
Be Home in Time for Supper is available on Amazon at this link.
- WTPS -