Return to Headlines
Middle School Students Make Turkey Crafts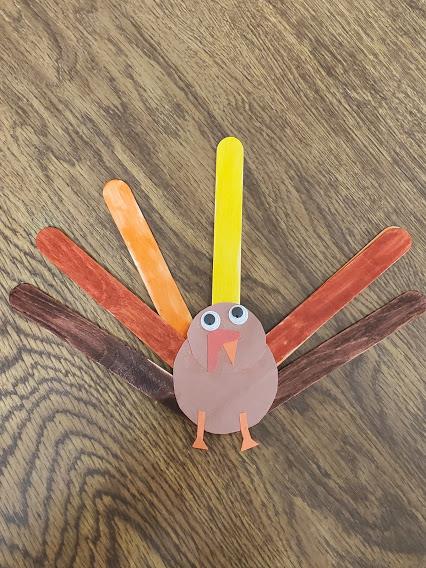 Festive hand-crafted turkeys, assembled by middle school students at Bunker Hill, Chestnut Ridge and Orchard Valley Middle Schools, will be accompanying the Thanksgiving takeout meals being prepared for some 500 Washington Township families on Wednesday, November 25th. Because COVID had canceled the students' annual participation in the District's annual "Gobble Up Hunger" food drive, the project was brainstormed as a way to keep the students involved in community service.
Randy Carbone and Drew Jackson, co-directors of the Rotary-sponsored Mother's Cupboard in Washington Township, connected with District middle school FutureActs club advisors Heather Finn, Katelyn Haughey, Kim Hinrichs and Maddy Kubik and brainstormed an idea to replace traditional baskets of dinner staples with actual Thanksgiving take-out meals.
"Randy reached out to Williamstown Rotarian Rocco Galleli at Innovative Catering Concepts and The Estate at Monroe, and he loved the idea and involved the Williamstown Rotary," Kubik said. "Although our middle school student volunteers will not be present on the day of the event, they will be there in spirit and will be gifting families with a turkey craft that they worked on for the event."
With food donations from both communities, Galleli and his kitchen staff will be cooking approximately 1,600 meals for pickup at The Estate of Monroe from 3-6 p.m. on Wednesday, November 25, 2020. Most meals will be picked up in a drive-through service, but deliveries will be made to families who do not have access to transportation. Approximately 500 meals will be prepared for Washington Township residents. The remaining meals will be distributed to the Cathy Megee Memorial Meals Program and Williamstown residents.
Click here to see a photo gallery of the crafting.