Return to Headlines
District Middle-Level Social Studies Teachers Plan Varied Lessons to Mark Martin Luther King, Jr. Day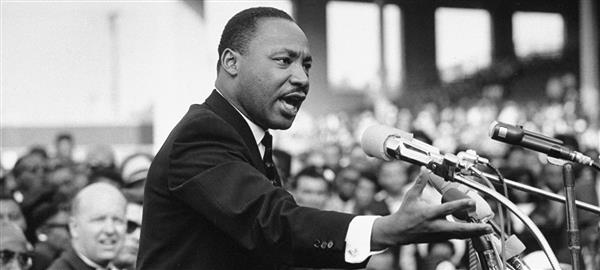 District middle-level social studies teachers have planned a number varied, creative and informative lessons to study and celebrate the life and legacy of Dr. Martin Luther King, Jr.
A sampling of some of the lessons that are underway include:
Bunker Hill Middle School
Nick Guerieri – is taking his students on an interactive Virtual Reality Nearpod where they will visit famous sites throughout Dr. King's life and follow his journey to civil rights advocacy. The Nearpod also has information and videos from MLK's speeches. The students will be reading a biography.com article and will answers questions about Dr. King's journey to being an activist.
Kristine Mallett – is also taking her students on a Virtual Field Trip with Nearpod. Students are creating posters in Nearpod, with a connection to ELA by reviewing/choosing quotes from Dr. King.
Kevin Appleby, Megan Heston, and Catherine Zeoli– Students will beComparing and contrasting the leadership and ideology of Martin Luther King, Jr., and Malcolm X during the Civil Rights Movement, and evaluating their legacies. Students will be using Flocabulary's Nearpod on MLK and an Edpuzzle video on Malcolm X to build context for a Venn diagram, comparing/contrasting the two figures. As a culminating activity, students will write a postcard to MLK answering the question "Did my (MLK) dream come true?"
Chestnut Ridge Middle School
Michelle Maccarella, Chris Spina and the entire Olympians Team of teachers - Students will be reading a speech by MLK- What's your Life's Blueprint? and then watching him give the speech. The students will make their own blueprint about goals, etc. Later in the day, they will watchSelma, Lord, Selmaand complete a characterization chart and comprehension questions for discussion.
Orchard Valley Middle School
Sharon May – Students will be engaging in a three-part discovery learning research webhunt. Part 1: Dr. King's impact on the Civil Rights Movement; Part 2: How is the legacy of Dr. King's life celebrated in other countries outside the U.S.; Part 3: Consider the source: Identify one controversial topic or issue about Dr. King and the source. Students then will be asked to give their opinions, explaining which side of the issue you support.
Dalton Woodward -Students will review the non-violent peaceful protest strategies that were given by Martin Luther King, Jr. and then through Nearpod, will review real situations that happened in the Civil Rights Movement. They also will see some recent actions of the Black Lives Matter protestors and the situations going on today. The idea is to show them that Civil Rights did not instantly change everything, and we still have work to do.
Dan Cheeseman - Following a brief overview of history up to the civil rights movement (slavery -> emancipation -> separate but equal/ Jim Crow laws -> Civil Rights Movement), students will discuss who MLK was and why he believed in peaceful protests. Students then will have a small write up on why peaceful protests are powerful, and why it worked for the Civil Rights Movement and MLK.
Ashley Sulla – Students will be completing a timeline of what they believe are the most important events in Dr. Martin Luther King, Jr.'s life. After they have the timeline completed, they will "map out" those events on a blank map of the United States and create a key.