Return to Headlines
Bunker Hill Middle School Art Students "Toy-ify" Themselves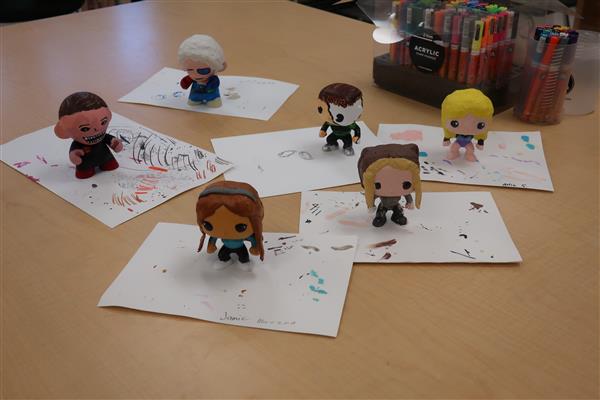 Four-inch vinyl toys, colored with acrylic paint and paint markers to represent the art students in Mike Murro's seventh-grade class at Bunker Hill Middle School, lined the windowsill in varying stages of completion. They were colorful and creative and, thankfully, mask-less – interpretations, executed in a refreshingly playful way, of how his students see themselves.
Murro presented the project to both his in-person and remote learners as a culminating activity on a lesson on self-portraits.


"It is obviously not a normal school year," Murro said. "In the interest of harnessing some more social and emotional learning, I wanted to do a different take on our self-portrait unit. Self-portraits can be a pretty-heavy lesson to take in, especially if you don't have a lot of experience or if you are just really self-conscious about your appearance. So, I wanted to try just a different type of medium, like a mixed media approach, but also something that was a little fun involving our blank vinyl toys."


So Murro invited his students to "toy-ify" themselves into mixed-media 3D masterpieces.


"This project gave kids a chance to make themselves into a vinyl version of themselves, while still following the face proportions and guidelines that we talk about. Body proportions and mixing colors – all that stuff is still taught, it's just a totally different approach to doing a self-portrait. Instead of a blank canvas, we have a blank toy – a KidRobot. We talk about measuring and lining up facial features, about facial expressions, different ways to portray your eyes, nose and mouth, to portray different emotions and moods. We talk about mixing different skin colors, hair colors, and how you can tint and shade colors and customize it to make it more realistic to your individual appearance. We discuss how different colors can set off different moods and emotions for the viewer. I had them take that all into account when planning out their preliminary sketch for their figure, so they knew exactly what they were creating before they did anything permanent and were disappointed by it."
This customizable figure provided an opportunity for his students to portray themselves as a realistic figurine, a cartoon character, a superhero, a sports icon, a famous artist, or something completely off the wall and original, making this the perfect artistic canvas for a creative self-portrait. They were invited to use polymer clay, fabric, and other craft accessories to make one-of-a-kind creations.
"It was cool because the kids had creative control on how they portrayed themselves," he said. "I let them go wherever they wanted to go. They didn't feel as boxed in as they might have if they had had to do a very linear and serious and realist portrait of themselves where every last detail had to be just right in order to make it not look weird."
Principal Mike D'Ostilio and assistant principal Dr. Greg Muscelli were so impressed with the project that they asked Murro to present it to families during the District's recent Middle School Family Wellness Night.
"This unit was incredible because Mr. Murro shared the differentiated way he was getting children to express themselves," D'Ostilio said. "It is so nice – because we are so quiet behind our masks – to see students express themselves through their artwork, whether it be a portrait, whether it be the toy. It is so well-needed and so important right now. His lesson was very well received, and our parents got to see the great things that Mr. Murro is doing."
Murro expressed great satisfaction with the way his students embraced the project and, in particular, how they left the masks out of their designs.
"None of the self-portraits have masks on them," Murro said. "I am kind of relieved that they don't. They don't feel like they have to include a mask to make it feel like them. They are still tied in to how they feel without it. It's a little beacon of hope that this is still how they see themselves."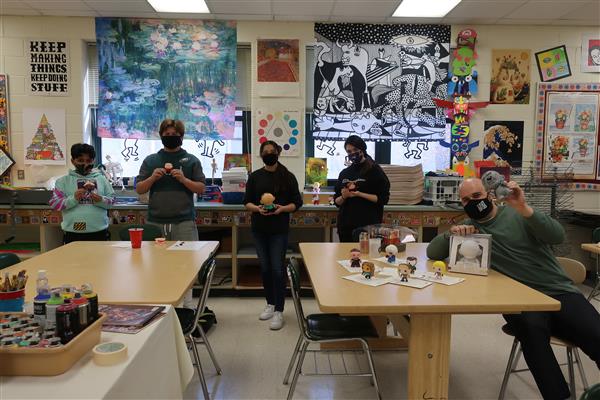 Bunker Hill Middle School art teacher Mike Murro (front right) and his his seventh-grade students (left to right) Syed Jaffer, Paul Dombrosky, Ceren Tural and Carolina Powers display their still-in-progress toy-ified selves.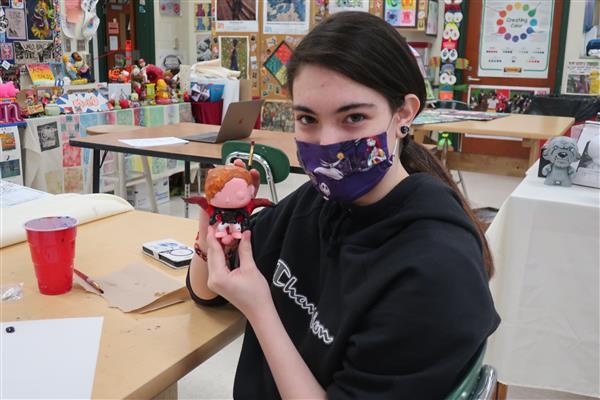 BHMS seventh-grade art student Carolina Powers displays her 3-D self-portrait which she has crafted to include wings.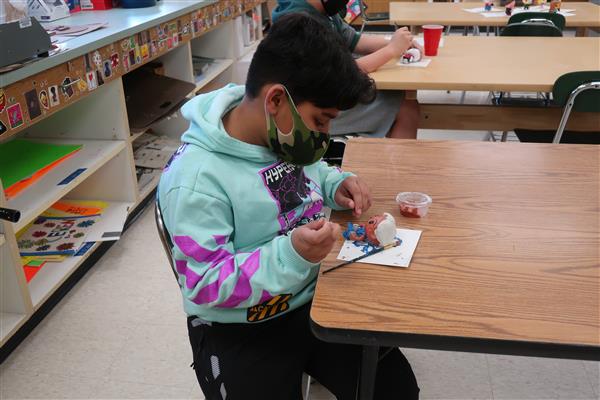 BHMS student-artist Syed Jaffer paints his vinyl toy.
-WTPS-