Return to Headlines
WTHS A Cappella Groups and Dance Students Team for Music Video of "Finale B" from the Musical "Rent"
One year to the day – five hundred twenty-five thousand six hundred minutes to be exact – since their last live public performance before a global pandemic cut the mics, shut off the lights and closed the stage, Washington Township High School singers and dancers convened on March 13, 2021, for the making of a music video.
The school's a cappella groups Dynamics and Momentum, under the direction of WTHS choral director Joe Zachowski, and members of the Dancer's studio classes, under dance teacher Christina Richardson's direction, spent five fours filming a music video of "Finale B" from the musical "Rent" at Tom Brown Field. The video was filmed and edited by local filmmaker and WTHS graduate Mike Licisyn (Class of 2002). District cable station coordinator Kevin Lindstedt provided the drone cinematography that was used in the final video.
"The lyrics to the song – 'there's only us, there's only this…no day but today' – were so fitting for our first in-person production in the pandemic and the new appreciation we all will have for the importance of time and living in the moment," Zachowski said. "Our students were so excited to come together to perform."
"This experience was like watching a dream come to life," Richardson said. "Being able to record on the anniversary of our school closing made it extra emotional and meaningful. It was absolutely incredible to work with our talented singers, dancers, and everyone involved in the filmmaking process. I am beyond grateful for this opportunity and so very proud of our students. My heart is so full."
"Getting to dance with my friends again for the first time was so exciting and fun," WTHS senior Gabriella Milano said. "Actually, being able to come together and perform finally felt somewhat normal after this past year. I'm so grateful for this experience and for everyone who made it happen."
"It was a really fun and extraordinary thing to do, so different than anything we've ever done before," said senior Kylie Bittner, a member of Momentum and Treble Chorus president. "Working with a professional filmmaker was really cool, an experience I'll never forget".
"I am so grateful to be a part of this experience," senior Taylor Wise, a member of Dynamics and Chorale president, said. "Especially being recorded on the anniversary of when this all began, it gave me such a perspective of hope and appreciation for the future."
Choral participants involved in the music video included:
Dynamics: Brenna McCuen, Daniel Hillig, Emily Cozzone, Giovanni Stanfa, Jaycen Geiser, Kathryn Kim, Miranda Troilo, Robert Ilagan, Shane Waters, Taylor Wise, Troy Smith, Vanessa Mendoz
Momentum: Abby Dzierzgowski, Angelica Male, Ava Scott, Ava Troxel, Fia Cardoso, Gillian McKenna, Jackie Caserta-Bonnell, Katie Murphy, Kylie Bittner, Maezie Ruggles, Olivia Day, Talia Morrison
Dancers included: Mia Broughton, Emily Cozzone, Sarah Golembo, Michaela Howell, Jillian Hulmes, Gabriella Milano, Liv Rebstock, Alannah Taylor, Christina DiMaggio, Angelina Elentrio, Katherine Hartranft, Olivia Holmes, Ryan Meldrum, Emma Rossi, Jillian Ryan, Lizzie Schmidheiser, Brianna Sheak, Taylor Wise
"Our students and teachers did an incredible job with virtual rehearsals and performances during the pandemic, but this music video event finally gave our students a sense that we are really turning the corner towards normalcy, District Supervisor of Visual and Performing Arts Casey Corigliano said. "While we are still looking forward to the day of having in-person audiences, the opportunity to at least record our students together from a single venue that is not a computer screen is extremely encouraging."
To view the music video, please visit https://youtu.be/Hln5jhCbyAs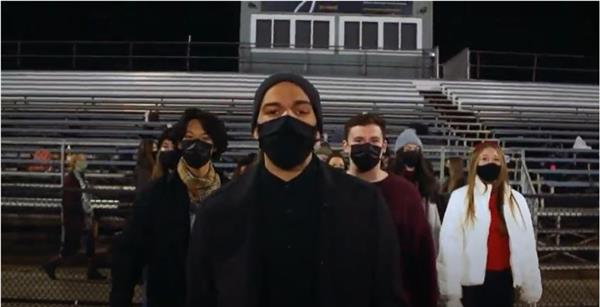 Soloist Troy Smith (center) is pictured with Robert Ilagan, Dan Hillig, and Taylor Wise to open the video.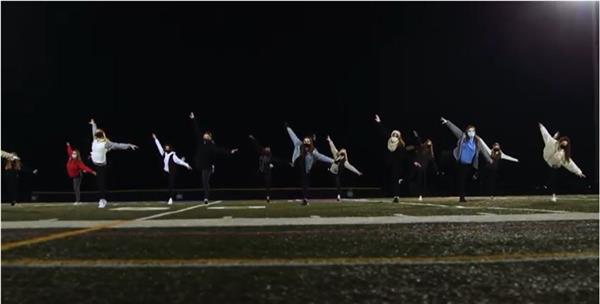 WTHS dancers who participated in the music video included: (front row)- Jillian Ryan, Brianna Sheak; (second row) - Emily Cozzone, Liv Rebstock, Jill Hulmes, Michaela Howell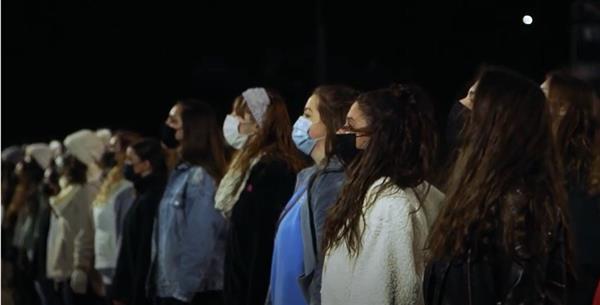 Jillian Ryan, Brianna Sheak, Lizzie Schmidheiser, Olivia Holmes, Katherine Hartranft, Ryan Meldrum and Angelina Elentrio appeared in the video.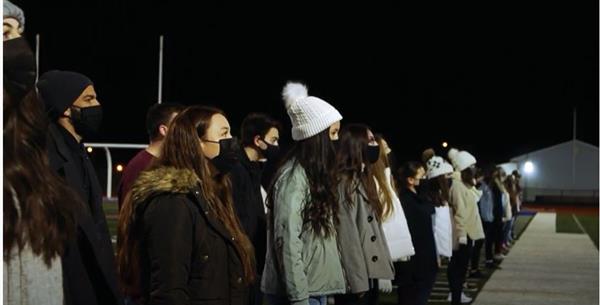 (From left to right) Vanessa Mendoza, Troy Smith, Dan Hillig, Miranda Troilo, Jaycen Geiser, Kathryn Kim and Brenna McCuen, along with the entire group, closed the video.