Return to Headlines
Assembly Provides Inspiration, Valuable Information to WTHS Students
As part of Mental Health Awareness Month in October, Washington Township High School graduate Mark Moore (Class of 1999), fitness guru and owner of Underground Fitness, reminded an assembly of 600 WTHS sophomores on October 15th that the most important letter in success is "U." Sharing his message of "Rise and Thrive," Moore reinforced with his student-audience that their mental state plays such an important role in their happiness, and ultimately, their success.
"What you focus on is what you feel," he said. "Your attitude truly does determine your altitude."
In order to R-I-S-E, Moore explained, you need to take Responsibility, seek Inspiration, set Standards and control your Environment and those you let into world. He encouraged them to always remain growth minded.
"As we have learned through the last year and the difficulties of COVID," he said, "you can go through it or you can grow through it. Everyone has the ability to get better."
Detective Brian Perticari from the Gloucester County Prosecutors Office and ICAC Task Force (Internet Crimes Against Children) followed up on the "environment" part of Moore's message by encouraging the students to be acutely aware that internet predators are everywhere. Perticari warned the students that they cannot be overly cautious about sharing out personal information, whether through internet activity, cell phones, social media and even while gaming.
"Our office has tremendous forensic capabilities and the ability to track everything that you do," he said. "Even if a phone has been under water or destroyed with a hammer, we still have the technology that allows us to trace the IP address, access the information and bring criminal charges, if necessary. I urge you to make all of your accounts private and to remember that nothing ever goes away on the internet."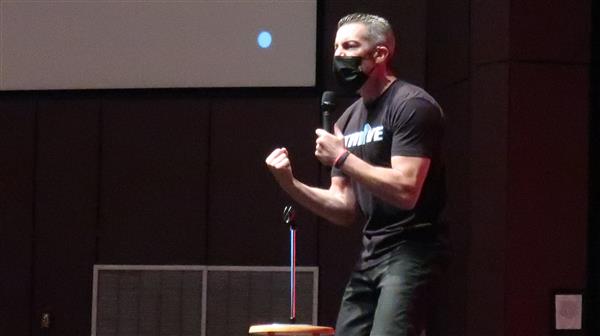 Mark Moore presented his "Rise and Thrive" message to WTHS sophomores on October 15th.
Detective Brian Perticari, from the Gloucester County Prosecutors Office, shared important information about internet and cell phone safety.