Return to Headlines
WTHS Intro to Culinary Class Visits 9-10 Kitchen for Hands-On Lesson on Food Safety and Handling
Washington Township High School Family and Consume Sciences Culinary Arts teacher Sabrina Duhaney armed the students in her Introduction to Culinary Arts class with a HACCP (Hazard Analysis Critical Control Point) checklist and turned them loose in the school's 9-10 kitchen on October 18th, where they acted as on-site health inspectors.
The exercise was intended to emphasize the many guidelines and safety protocols are that enforced in the food service industry. District food service manager Jennifer Mullin and food service supervisor Marlene Monroe gave the students a guided tour of the kitchen, introducing them to the large walk-in freezer and refrigerator, the dry storage area, the hot and cold holding areas, the convection ovens, the preparation areas, and the dishwashing and sanitizing areas.
"My students are learning about food safety, so I thought it would be important to see what a real commercial kitchen looks like, to see how the food handlers operated and reinforce what they are learning about food safety, personal hygiene, dating and storing foods and maintaining proper temperatures. We always begin with food safety, before we begin cooking, because it is the most important thing – handwashing, handling knives, following directions- all of these things are important before we ever go into a kitchen."
The student-inspectors examined the storage area to ensure that all food was stored six-inches off the ground, checked on the cleanliness of work surfaces and equipment, and ensured that the temperature gauges matched standards to prevent food contamination.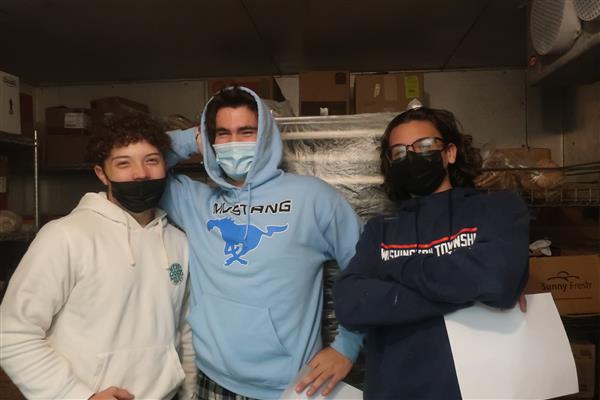 WTHS juniors Mason Elliot, Zachery Rink and Joey Baselice posed inside the large walk-in freezer in the school's 9-10 kitchen, while touring the facility.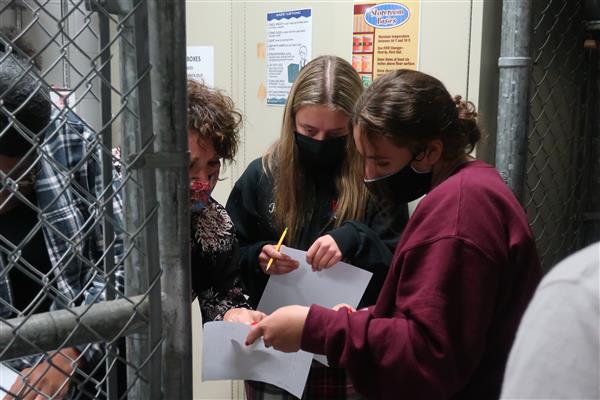 District food service manager Jennifer Mullin (left) reviews the checklists of students Isabella Bliven and Kaitlyn Ahlquist.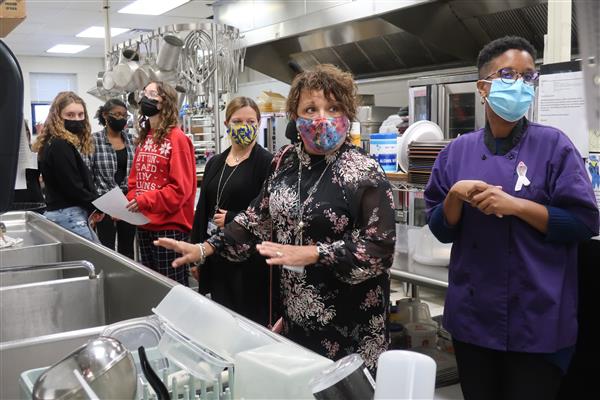 District food service manager Jennifer Mullin (center with supervisor Marlene Monroe, left, and teacher Sabrina Duhaney, right) explains the cleaning station where dishes are cleaned, rinsed, and sanitized as Jillian Scardigili, Alyssa Prout, and Kaitlyn Ahlquist look on.