Return to Headlines
Wedgwood Elementary School Class Makes History with Perfect Grand Champion Status in First in Math
WASHINGTON TOWNSHIP – It might have been a lofty goal, but consider it achieved! Mrs. Donna McGough's fifth-grade class of 20 students at Wedgwood Elementary School set a goal to have every student in the class to become a First in Math Grand Champion. This week, they were able to check that box as completed.
To become a Grand Champion, a student must solve 30,000 or more math problems using the First in Math online program. Mrs. McGough's class becomes the first class at Wedgwood School to have every student reach Grand Champion status.
First in Math was designed with focus, coherence and rigor as its cornerstones. Self-paced activities target mastery of procedural skills and fluencies that are essential for internalizing and demonstrating conceptual understanding in mathematics. Students earn stickers for every three problems solved correctly.
The class will be meeting virtually with Robert Sun, creator of First and Math, on Thursday, May 26. Mr. Sun wants to personally congratulate them for their accomplishments.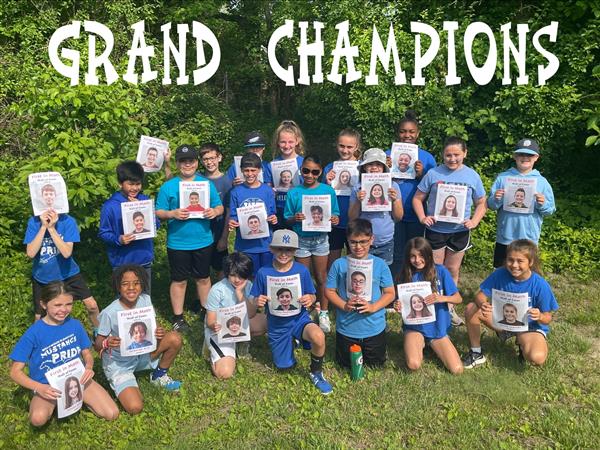 In the above photo are Mrs. McGough's students proudly displaying their Wall of Fame pictures. They include (in alphabetical order): Julia Brannigan, Delaney Busch, Jocelyn Cueva, Luke Epstein, Gia Fattore, Kara Jones, Kennedy Jones, Khloe Leacott, James McIntyre, Connor Moffitt, Maliyah Moore, Aiden Nieves, Dean Paulson, Andrei Penaverde, Madalynn Rainey, Joseph Redman, Jeremiah Sills, Nathaniel Torres, Joseph Watson, Allison Wheat.

- WTPS -