Return to Headlines
Washington Township High School Interact Club Helps Raise $8,000 for ALS Research Thanks to Monzo Madness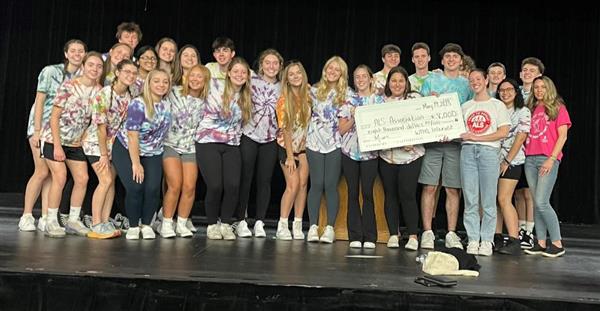 WTHS Interact's executive board poses with a check for $8,000 that will be donated to the ALS Association thanks to Monzo Madness.
WASHINGTON TOWNSHIP – The WTHS Interact Club, led by Mr. Kevin MacNamara and Mrs. Shera Jahn, hosted its annual "Monzo Madness" Dance-a-thon on Friday, May 17, 2020. More than 225 students were in attendance, each raising at least $50 for ALS research. Interact was able to raise $8,000, taking the total to nearly $300,000 since the event's inception in 2004
"None of this would be possible without the hard work of Interact's outstanding Executive Board, our hardworking and dedicated staff at WTHS, and the donations from many of our local businesses here in TWP," Mrs. Jahn said.
An extra thank you goes out to the following businesses and individuals who helped make Monzo Madness a success again: WTEA, Washington Township Rotary, Polizzi's Brick Oven, Binswanger Commercial Real Estate and Brokerage, Spencer Lomanno, Liscio's Bakery Sewell, Dairy Queen, Coldstone Creamery, Colette Cirano Bachich, Rita's Water Ice (Egg Harbor Road), Meloni's, Auntie Anne's, ACME Markets, Dolce Nails & Spa, Philly Pretzel Factory Sewell, Tea-Tank, Carrabba's Italian Grill, Creanies Ice Cream, Dickie's BBQ, Fruiggie Juice and Bowls, Chick-fil-A, Sam's Club, Rizzieri Aveda School, Taylor's Salon, Salon Giovanna Maria, Alisha LeDonne Photography, Township T-Shirt Company LLC, Fun City Trampoline Park, The Growth Dojo, Fat Jack's BBQ, Five Guys, Pizza Italia, Sollena's Pizza, All About The Crust 2, Rastelli Market Fresh, Glow Lab, The Color Room, Don Franco's Pizza, Johnny's Pizza, Crave Pitman, Rudi's Formal Wear, Chili's, Wawa (Hurffville Cross Keys Road).
- WTPS -